Coronavirus Shutdown Day 7 in Austria: Empty Trains, Gold and BTC, mass surveillance launched 😎
---
Corona-Shutdown Tag 7 in Österreich: Leere Züge, Gold und BTC, Massen-Handyüberwachung gestartet.
Jetzt ist es eine Woche her, seitdem die ersten Shutdown-Maßnahmen in Österreich in Kraft getreten sind (Einschränkung der Veranstaltungsfreiheit, Grenzschließung zu Italien, Shutdown der Unis und Schulen angekündigt).
Frage mich, ob der Shutdown noch gerade rechtzeitig implementiert wurde, um das Schlimmste zu verhindern. Letzte Woche war sehr chaotisch, jeden Tag neue Maßnahmen, Terminverschiebungen der Maßnahmen und Verschärfungen (Restaurant bleiben offen, Ausgangssperren undenkbar, Schulen bleiben ein-einhalb Wochen geöffnet, dann alles anders).
Heute wieder nicht gut geschlafen, aber keine Panik, eher Stress. Kühlschranktür bei meinem Vater kaputt, Kühlschrank provisorisch repariert, war für ihn einkaufen, alles mit Sicherheitsabstand natürlich, ÖBB-Züge waren fast leer, surreal, alle paar Minuten Sicherheitsdurchsagen, dystopisch, so wie in Black Mirror.
Wieder zu Hause. Das erste Mal nach Jahren Herd wieder aktiviert. Süppchen gekocht. Muss jetzt kochen lernen :P
Wir erleben gerade einen globalen fast gleichzeitigen Shutdown der ganzen Welt. UK und USA werden folgen, wenn dort die Situation außer Kontrolle gerät.
Bitcoin aber auch Gold stark eingebrochen wegen der Krise.
Bitcoin ist ein Hedge gegen das Geldsystem nicht gegen Pandemien, auf Twitter gelesen. BTC und Gold werden aber wieder massiv zulegen, wenn die Euro/Dollar-Geldmenge in den nächsten Wochen um Tausende Milliarden inflationiert wird, da bin ich mir sicher.
Optimisten gehen davon aus, dass der Spuck vielleicht nach 2-3 Monaten wieder gänzlich vorbei ist und wir dann rasch alles hochfahren können. Anderes Post-Shutdown-Szenario gestern gepostet.
Regierung hat mit der Massen-Überwachung der Handy-Bewegungsdaten begonnen [2]. Das finde ich jetzt problematisch. Vor allem müssen wir darauf achten, dass solche Maßnahmen nach dem Shutdown sofort wieder beendet werden. Auch bedenklich, wie haben sie die Überwachung so schnell implementieren können, das muss bereits vorher existiert haben.
Und noch eine Neuigkeit von Steem. Die Steem-Witnesses bereiten gerade einen neuen Fork mit dem Namen Hive vor, um JS/Tron loszuwerden. Klingt spannend, werde ich unterstützen, aber habe mich natürlich schon an den Namen Steem gewöhnt. Aber spannend.
Soweit mein heutiger Tag 7.
Bleibt SAFU :)
https://tradingview.com/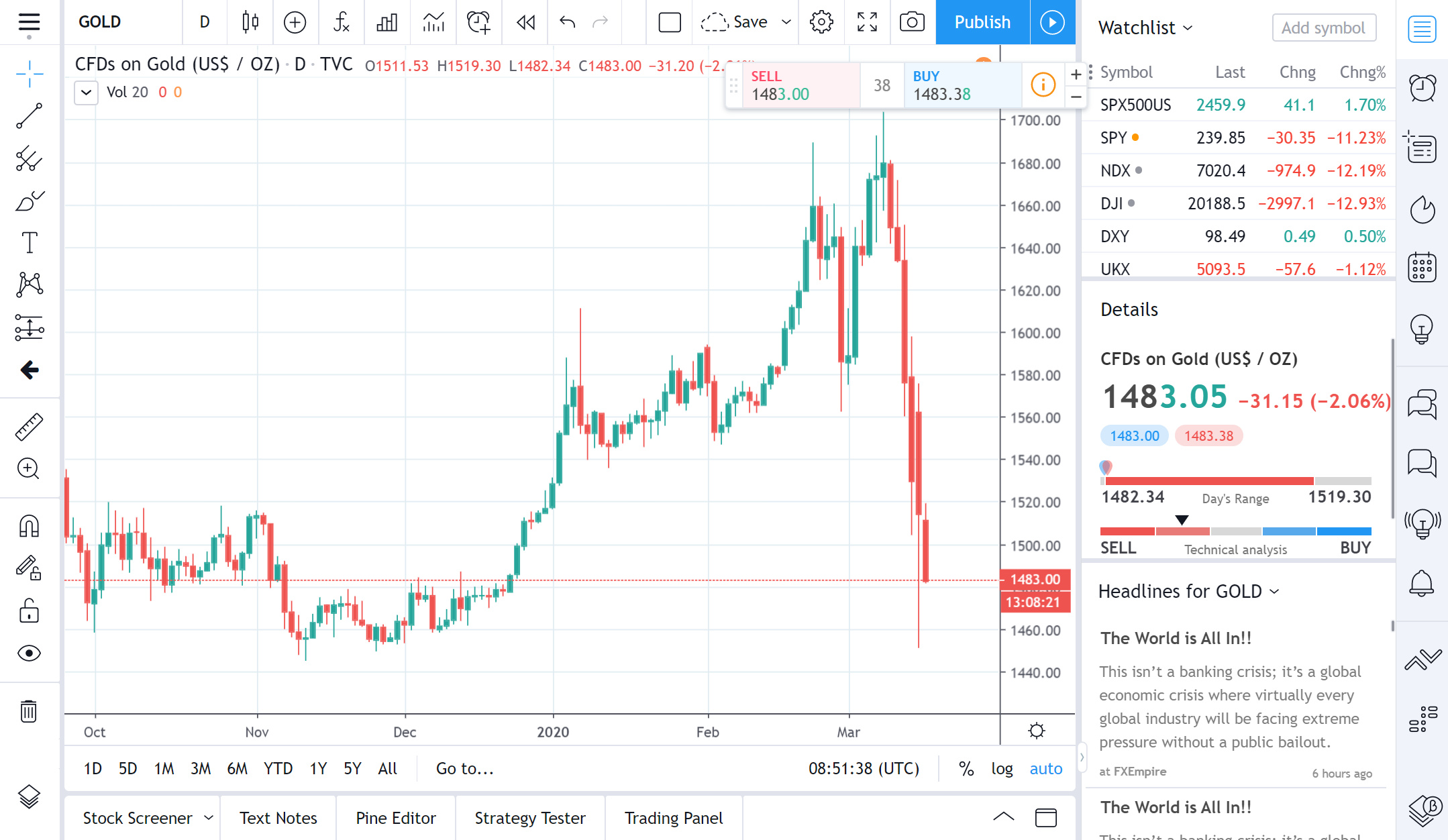 Make no mistake, Gold went down too, everything went down, not only Bitcoin.
English
Corona shutdown day 7 in Austria: Empty trains, gold and BTC, mass mobile phone surveillance launched
It is now a week since the first shutdown measures came into effect in Austria (restriction of indoor/outdoor events, border closed to Italy, shutdown of universities and schools announced).
I wonder if the shutdown was implemented just in time to prevent the worst from happening. Last week was very chaotic, every day new measures, postponements of the measures and tightening (restaurants remain open then closed, curfews unthinkable then curfew, schools stay open for one and a half weeks, then everything is different).
Today again not slept well, but no panic, rather stress. Fridge door at my father's broken, fridge provisionally repaired, went shopping for him, everything with safety distance and social distancing of course, Austrian trains were almost empty, surreal, safety announcements every few minutes, dystopian, like in Black Mirror.
Back home again. Activated my stove for the first time in years. Cooked a soup. Must learn to cook now :P
We are currently experiencing a global almost simultaneous shutdown of the whole world. UK and U.S. will follow if the situation there gets out of control too.
Bitcoin but also Gold has fallen sharply because of the crisis.
Bitcoin is a hedge against the monetary system not pandemics, read on Twitter. But BTC and gold will have a comeback again if the Euro/Dollar money supply is inflated by thousands of billions in the next weeks and months, I am sure.
Optimists assume that perhaps after 2-3 months the crisis will be completely over again and we will then be able to ramp up everything quickly. Other post-shutdown scenario posted yesterday.
Government has started mass monitoring of mobile phone movement data [2]. This a bit problematic now. Above all, we have to make sure that such measures are stopped immediately after the shutdown. It is also questionable how they were able to implement the monitoring so quickly, it must have existed before.
And another news from Steem. The Steem Witnesses (Block Producers) are currently preparing a new fork called Hive to get rid of JS/Tron. Sounds exciting, I will support that, but of course I'm already used to the name Steem. Exciting.
So far for my day 7.
Stay SAFU :)
Sources
[1] Shutdown Day 1: https://steempeak.com/hive-121566/@vikisecrets/coronavirus-in-austria-border-to-italy-closed-universities-closed-and-almost-all-indoor-outdoor-events-canceled [2] Mass Surveillance https://www.kleinezeitung.at/international/corona/5786138/Unbehagen-bei-Datenschuetzern_Handydaten-zeigen-der-Regierung [3] Post Shutdown Scenario: https://steempeak.com/hive-121566/@vikisecrets/coronavirus-shutdown-day-6-in-austria-curfew-1000-cases-eu-borders-closed-new-possible-post-shutdown-scenario [4] Steem Fork: https://steempeak.com/steem/@blocktrades/why-i-won-t-be-compromising-with-justin-sun
Live your Secrets and Steem Prosper 🔥
xx Viki @vikisecrets