Last night's train || A horror Story
---
"This tea is hot - the tea is hot" - a man with a thin throat is shouting - a huge cup of tea in his hand - screaming in front of Mr. Raju for three minutes. Every time he goes in front of Raju Saheb, Raju Saheb gets annoyed - but the tea waller doesn't flinch. Raju Saheb is one of the few passengers in the waiting area of ​​Laksam railway station tonight. One hawker after another is coming towards Raju Saheb again and again for wearing suit boots. He has given everyone back. His mother fed him. And he told her not to eat any street food. And he can never talk about his mother.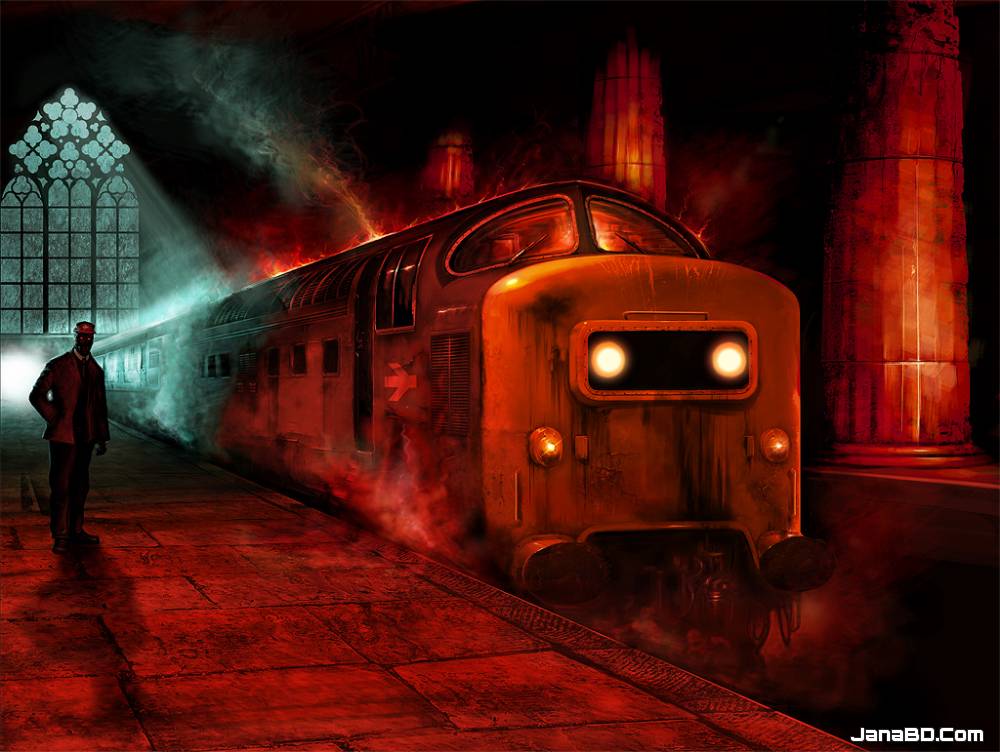 "This egg - egg egg - boiled egg" - a small child came and put the basket of eggs in front of Mr. Raju and said - "Sir take an egg - I will feel much better - eat? Dimu? Chuila? " He took an egg and started chola. Mr. Raju is frowning at the boy with the eggs. Then he raised his throat a little and said-
"Did I tell you to break the egg? Why did you break the egg? " The boy gritted his yellow teeth and smiled and said, "Sir, I give you eight taha kaira to everyone. Saying that, he took the egg on a piece of paper, divided it with a spoon and sprinkled salt in the hands of Mr. Raju.
His head began to burn with anger. But after reading a little, he controlled himself and said- no, I will not eat. You say goodbye with money. He gave the boy a note of ten rupees from his wallet. The boy took the note and left the egg on the bench next to Mr. Raju and left. Seeing the boy leave, his head began to burn with anger. But he muttered something in his mind and said again, who was staring at the train line.
Mr. Raju lives in Dhaka. Rent a flat alone. He is a lawyer in the Dhaka High Court. Mother lives in Fulgram of Laksam. He wanted to bring his mother to Dhaka with him - but his mother never agreed to leave his grave. She never left her husband's grave. So today he is not going with Mr. Raju. He was sent to the house of Professor Akmal in Sunamganj. Mr. Raju's marriage to Professor Akmal's daughter has been going on for two weeks. At the end, Akmal Saheb called Raju Saheb's family to see the girl. But Mr. Raju's mother did not agree to go. So in the end Mr. Raju has to go alone to get married. He has no brothers or sisters to go with him. So on this winter night alone, he has bought a ticket and is waiting on the platform for the Dhaka-Sylhet train.
"Sir, sir, take the paper - take the paper - hot news - funny funny news" - a boy of 18-19 years came in front of him and started checking the monthly magazine. He turned his face away. He fell asleep on the way. This colorful magazine never attracted him. He reads more and more daily newspapers. But the boy is a stubborn servant. He will sell the paper and leave. Unable to sell at the end, he danced in front of Raju's eyes with a book with a nude picture and said, "Sir, you see - how many hot things will you take?" There are better things, sir. " He gritted his teeth and touched his hand. This time Raju Saheb widened his eyes and looked in such a way that the boy almost escaped.
This time he took out an autumn literature from his bag and started reading it. A few moments ago, the station master said that it would take another two hours for the train to arrive. So he does not understand how to spend these two hours.
As he glanced at Sharat Babu's book, he noticed a couple twenty feet away whispering to each other. At first he thought he would get up and talk to them - but then he got rid of the thought. After a while, the train going to Dhaka and Chittagong actually got on the train and left. They seemed to be newly married. Thinking in his mind, he concentrated on reading again.
But suddenly he noticed how Shunshan was around him - there was no response. Mr. Raju lifted his head from the book and tried to listen. But he heard no sound. He raised his head and looked at both sides. There are four 40-watt lights on in the dim light - the darkness around him seems darker. In between is the fog of the month of Magh. He listened for a long time. Nah, he didn't hear any crickets. Even though he is a good lawyer, he is afraid of loneliness. So he got up from the bench and proceeded towards the station master's room. But when he got there, he was disappointed - there is no one there but a madman. The station master did not notice any gap in his house. The station master has only ten minutes left to tie the time. He came to see the clock and sat in his front seat. And when he sat down, he saw an old woman sitting beside him. He went and sat down next to the woman.
There are a lot of chickens in this cold woman. He is wearing a white sari. Many faces are hidden behind the veil. Mr. Raju began to wonder why the woman was sitting on this auspicious night - who is she? Why are you here? Thinking about that, the woman said to herself, "Why am I here?"
Mr. Raju was quite shocked to hear. The woman's voice is very broken - it seems that she is talking with a lot of difficulty. He looked at Mr. Raju. Mr. Raju could not look at that look for long. In the middle of this winter, his body became sweaty with fear. He