The Cycles Of Bitcoin - Get Ready for a paradigm shift!
---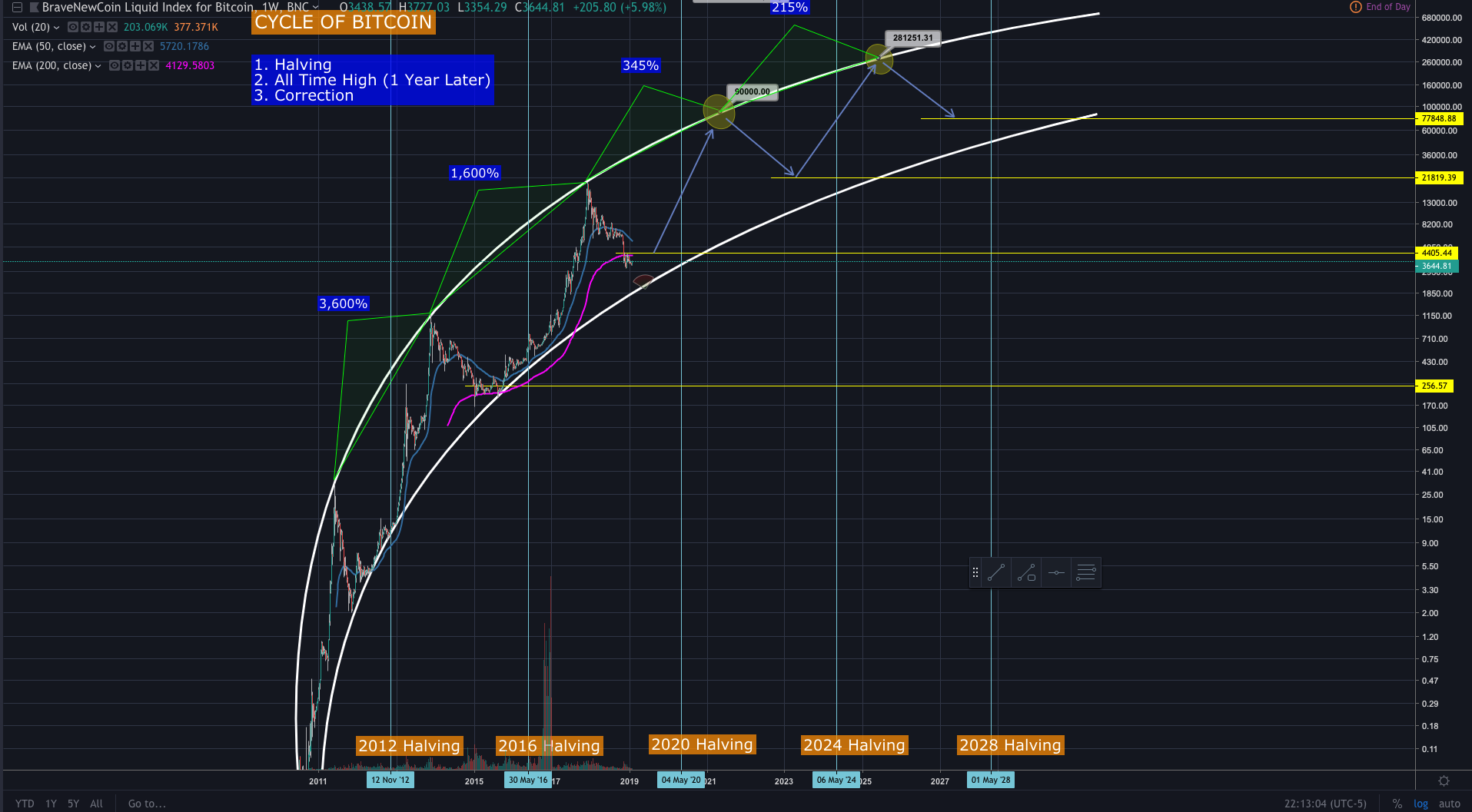 See full analysis on trading view
https://www.tradingview.com/chart/BLX/LZLdkUG1-The-Cycles-Of-Bitcoin-Get-Ready/
At the very beginning of 2013, I started investing in Bitcoin . My approach to accumulation is Dollar Cost Averaging ( DCA ). I am a very big believer in the mental aspect of accumulation. This means that if I am utilizing DCA because I am extremely long on Bitcoin , I would like to DCA when the price is down - at least for the short term. It is the essence of "Buy The Dip". It does create great trading potential, however, I do not Buy The Dip because I want to trade.
There are 5 things that I use in technical analysis in finding the best possible area to accumulate in the short term. They are:
Key support & resistance areas found within the .618 - .786 channel on Fibonacci Retracement
Breakout targets on both the downside & upside utilizing traditional patterns like triangles and wedges
The confluence of 50EMA & 200EMA on daily charts with the above 2 indicators
The combination of slower momentum oscillators & faster moving - - i.e. RSI & Stoch RSI
Lastly - which some disagree with - is the historical data that we have on Bitcoin in terms of the flow and movements of BTC .
For the purpose of transparency, throughout the year I did not think that BTC would break below $5k. This is also why I mentioned on videos throughout the year that $3,500 - $5,500 area is an extremely great price to accumulate in my opinion.
The purpose of explaining all of this is because it is the foundation of what you see on the screen.
Long term there are some more things that play into the movement of Bitcoin:
Bitcoin thus far has followed a pattern of 3 Events:
Halving - The amount of brand new mined BTC is cut in half for miners. Also, the price earned for mining 1 BTC is also cut in half.
All Time High - 1 Year after the halving you see BTC reaching a new ATH
After ATH is reached, you see consolidation and sell-off in BTC price. This is the correction phase.
Each cycle is highlighted on the chart. Both past and SPECULATIVE present. You will see a steady decrease in % gains in each cycle. This is normal.
Important to note: You will also see the key area of .786 on the Fibonacci retracement (red lines) plays a crucial role in defining the bottom range.
None of this takes into account the synergistic position and momentum within the weekly RSI
My other Steemit articles on 3commas the software I use to build my crypto accounts, I share how to use this powerful tech, and strategies and configurations I personally use.
(9 trading strategies for newbies + Configurations have made avg. 1% per day)
(9 trading strategies for newbies + Configurations have made avg. 1% per day)
(Crypto trading strategies & configurations to profit in any market conditions & the tool I use as my secret weapon)
(3commas BOT, Disrupting crypto trading! Review, Full How-to & Profit Strategy 🤖🚀)
(Custom TradingView Signals 📡 to 3commas Bot 🤖)
---
(Unleash the power of 3commas bots by integrating TradingView alerts from TakashiClub indicators and standard indicators.)
Trade with confidence with TakashiClub Signals, and identify the best entry and exit points for your trades. Get 10% off with my referral code:
Best crypto exchanges get a signup bonus Join Binance with me: https://www.binance.com/?ref=35181698
Better than Coinbase Get $10 of free Bitcoin through Coinmamma - http://go.coinmama.com/visit/?bta=55219&brand=coinmama BEST Bitcoin faucet check out my last post! - https://freebitco.in/?r=320572
Get CryptoTab Browser: https://get.cryptobrowser.site/4629357
Earn free BTC with Moon Bitcoin- http://moonbit.co.in/?ref=c69b1e844696
Mine Crypto with any device passive- https://minergate.com/a/3acfa834fd5c6e289a33dd41
2 of the most effective crypto advertising platforms below Advertise and earn faster for Cryptotab or any crypto Referrals- https://ref.adbtc.top/959159 Advertise and earn faster for Cryptotab or any crypto Referrals- http://www.easy-hits4u.com/?ref=jam199716
BTC- 17iN9xNLU4EFvBVCbuB9cz425EL8tuZnJb ETH- 0xFC18Dc7Cf9f1340C7d2Aa6771176C6580aBc2651