CURATING STEEMPEAK RELATED CONTENT #PeakReview
---
Just a quick message to let you know about a new hashtag #PeakReview and our desire to use more of our voting power on content that is related to https://steempeak.com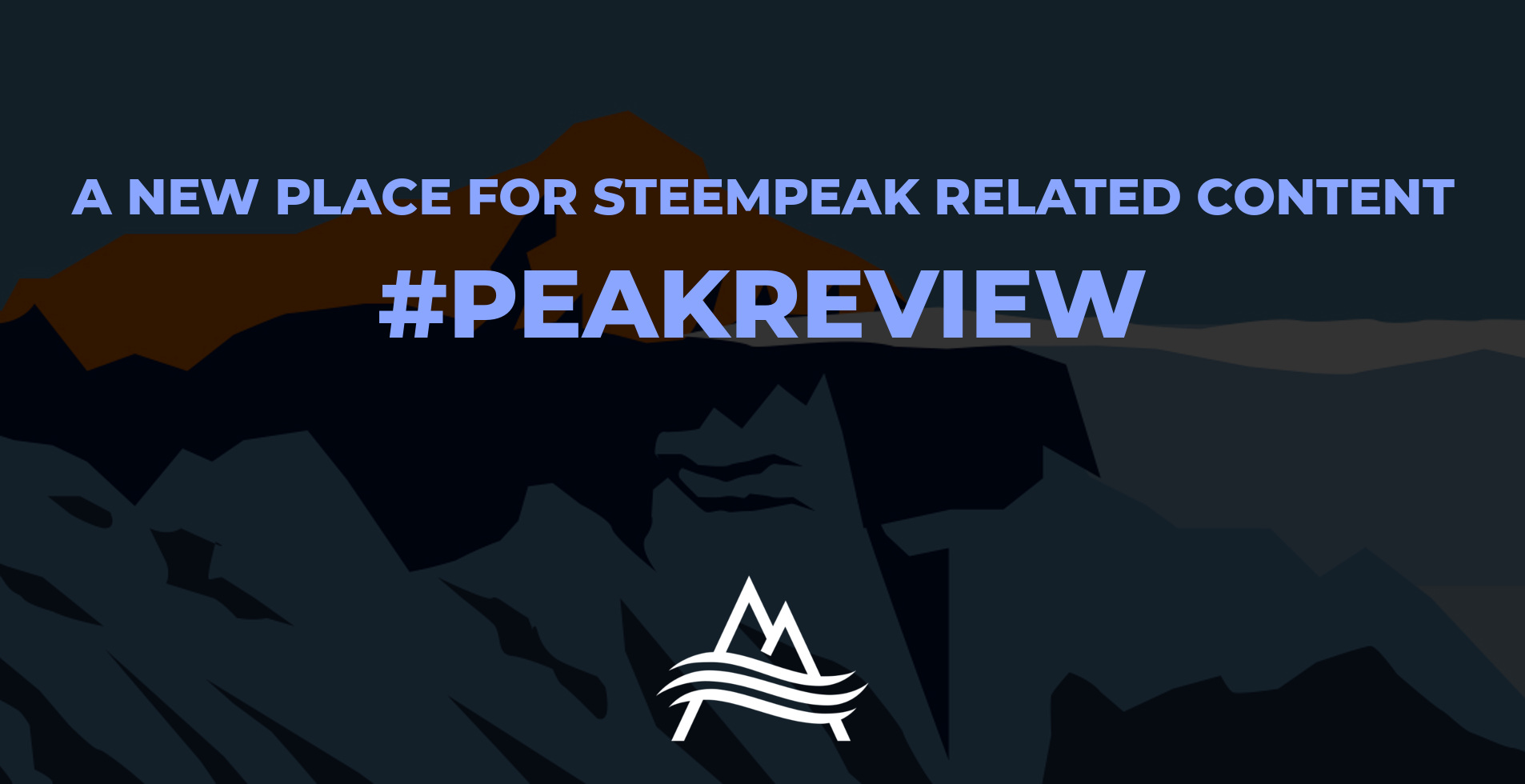 WHAT WE OFFER
Our vote is getting better so we'd like to use it more often.
On some content we may also reward with SBI sponsorship (a third party by @steembasicincome)
If content is created that we feel is specially important to our users we may even share it. Specially any posts that we wanted to write but our users wrote first.
Beyond what we offer is the fact that this is a good theme for solid content that will help people and get votes from others.
#PEAKREVIEW
The #steempeak keyword seems to be used by every random sort of post that is made using SteemPeak.com so we're setting aside, curating and guarding a keyword that has never been used. And we'll check it a couple times a week. Fair warning we may downvote those who abuse the #PeakReview keyword with content unrelated to the purpose.
We encourage our users to check out the keyword and support those that are making great content to educate your other fellow users. Even better is if the content is directed at helping brand new users.

You can easily add this topic as a FAVORITE ... https://steempeak.com/trending/peakreview
TYPE OF CONTENT
Reviews of SteemPeak in general.
Reviews of specific features of SteemPeak.
Informational posts about Steem blockchain features.
"How to" instructionals.
Suggestions for SteemPeak .
Hopes and dreams for SteemPeak.
Video tutorials.
Tutorials for 3rd party services that SteemPeak has integrated . (keychain, steemconnect, @likwid, @steem.ninja ... https://steempeak.com/me/services)
All this stuff... but for our partner @peakmonsters = https://peakmonsters.com
SHARE MORE
For those on our discord we will also add a channel just for link dropping posts However this is not a requirement because we will be checking #peakreview consistently.
WITNESS UPDATE: We did some maintenance and our Witness is back up a big thanks to @asgarth and I hear @themarkymark for helping out. Also big thanks to everyone because it's been about one year since we started and released witness features on https://steempeak.com/me/witnesses ... as of this moment we're at #31
Vote over here: https://steempeak.com/witnesses