# 816 - Early American Commemoratives - Part 27
---
Most of the info below comes from: https://earlycommemorativecoins.com/
"Commemorative coins were first issued by the United States Mint in 1892 to mark the World's Columbian Exposition. The silver half dollars depicting Christopher Columbus were sold at the expedition for one dollar each. In subsequent years, the US Mint would continue the tradition of issuing gold and silver commemoratives to honor the important people, places, and events of the country.
Early commemorative coins were issued between the years 1892 and 1954 and have included primarily silver half dollars and gold dollars."
I will show the series "Silver Early Commemoratives". It will be presented in alphabetical order.
All coins weight 12.5g, with 90% silver purity.
The twenty-seventh is a MS66 1935-S "San Diego" Half Dollar.
"The issue commonly referred to as the San Diego Half Dollar was authorized to mark the California-Pacific International Exposition. The commemorative coins were first issued in 1935 struck at the San Francisco Mint, and later in 1936 struck at the Denver Mint."
PCGS graded 11,667 1935-S "San Diego" Half Dollars, with 1,799 as MS66 and 309 above. 70,132 1935-S "San Diego" were minted in San Francisco.
Today's price of this coin is around $190.00.
"The obverse design was based on elements of the California State Seal. Minerva is seated with a spear and shield bearing the word "Eureka", a grizzly bear is to her left, a horn of plenty is to the right, and a ship and miner at work appear in the background.
The designer of the coin was Robert Aitken, best known for his design of the 1915-S Panama Pacific $50 Gold Piece."
"The reverse image includes two of the exposition buildings, the observation tower and the Sate of California building."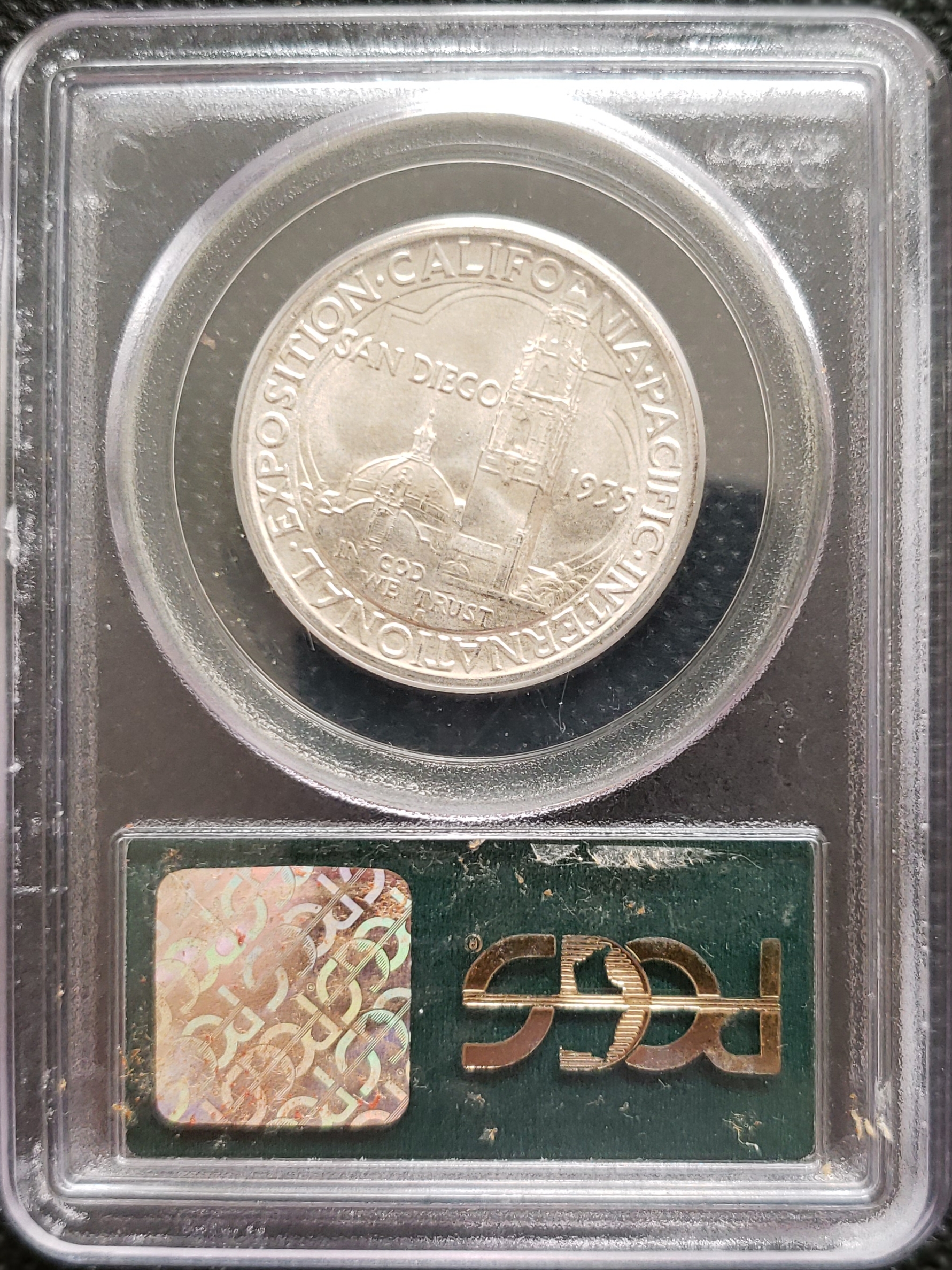 Thank you for reading. Please comment, upvote, resteem and advise me.