Application for the Community Curators: INVEN Gaming community, New challenge
---
https://steemitimages.com/640x0/https://cdn.steemitimages.com/DQmYuYUQyfCoLQpLXYNe9ptbU3a2bmaAAMdhbo1EYPEv5ct/D257E23D-093D-46D8-93BE-416B5C9D0C18.png
[Summary]
The INVEN Gaming community is a representative game community of STEEM blockchain that was selected as a community curator in May and supported 500K SP. When we first started the project, we started with fewer than 10 members, but now we have over 200 members. The INVEN Gaming community is growing fast and is registered with Steemit Trending Communities. Our INVEN Gaming team supports English, Korean, Turkish and Italian languages.So we can communicate with national community members. Our team plans to support more languages as the project continues.
[ROR Universe Team]
There will be news of the ROR Universe game in May and June. Our team is in close consultation with the exchange and plans to promote RORGAME. RORGAME had over 6000 subscribers in the BETA test. And it is expected that more than 10,000 members will join through this pre-open beta test. The Road of Rich game has completed several main features, and the chat system and quest system will be tested in May. All games in ROR Universe are covered with a reward system, which makes it a very good system to attract new subscribers. When the game is completed and becomes a full service, the INVEN Gaming community will be able to grow significantly.
[Plan for new subscribers]
If the INVEN Gaming community is selected as a curator in June, we plan to start marketing. First, the INVEN Gaming community plans to create a Vote fund for marketing activities. The INVEN Gaming marketing fund is used only for marketing activities and if the project is suspended, the remaining STEEM will burn 100%.(@null) The marketing fund plans to raise funds through community voting once a day. We are planning marketing activities through platforms such as Twitter, blog, YouTube, and review hunt. In May, the INVEN Gaming community became STEEM's flagship gaming community. In June, we plan to increase more new members through marketing activities.
[Curator activity in May]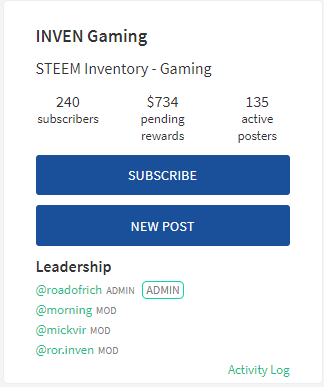 First of all, We are happy to be one of the first curators of the project. New people continue to join our community which we started with few people. Users who stopped writing started to write again. The biggest example of these is Turkish users. We reached more than 200 users in a short time. We rewarded all the users who wrote in our community since the first day we became the curator.
INVEN GAMING Community First Week Curator Report STEEM INVEN Gaming Community Notice - HIVE cross posting INVEN GAMING Community Second Week Curator Report
INVEN Gaming Community May Curator Application
[Team Members ]
ROR Universe Team(@roadofrich), @mickvir, @morning
---
---
ROR Official Discord channel: https://discord.gg/vyPHGk6 ROR Official Homepage: http://roruniverse.com/ Official Kakao talk channel: https://open.kakao.com/o/gHpYWMkb ROR Official Youtube channel : https://www.youtube.com/channel/UCmt8RnYEJQtMdsylzJbDeIQ
---
---
RORGAME Beta Service https://play.google.com/store/apps/details?id=com.ziplab.rorgame Road of Rich Alpha Service https://playror.com/
The INVEN Gaming community is run by the STEEM Witness @roadofrich team. Vote for @roadofrich witness