STEEM Witnesses are the pillars of the STEEM blockchain but many Steemians don't even know we exist or don't even care. Those who know and/or care don't have much visibility on what the "job" involves or how much witnesses earn.
All witnesses need from you is a witness vote that costs you nothing (it does not use your vote power like a post or comment upvote). By voting for a witness, you are telling the blockchain that you trust that Steemian for performing task of signing blocks and keeping the Steem platform stable and safe.
All the transactions (activities) you perform (create/edit posts, comments, upvotes, transfers etc...) on various Dapps (steemit.com, busy.org, steemconnect.com etc...) have to be witnessed and signed by a software running on a witness node (computer/server) running 24/7/365.25 before being added to the blockchain. This operation can be time consuming and requires some expenses. For doing this work, STEEM Witnesses are getting rewarded with Steem Power for each block that they have signed and successfully added to the blockchain.
Blocks of transactions are processed in rounds of 63 seconds each. In each round, 21 witnesses will be picked to sign the blocks and have 3 seconds to sign. The 21 witnesses in each round are the top 20 witnesses plus 1 witness amoung the remaining (called the Backup Witnesses). The single Backup Witness in each round is selected in a weighted random manner based on their ranking, the higher they rank the more likely they are to be selected.
Every day, the system generates some STEEM tokens that are split into three pools:
I cannot guarantee 100% accuracy on the numbers found in this post. This is just to give you an idea of the distribution of Steem Power through the witness operations. If you do find an oddity, please let me know and I will make sure to get it fixed.
@steem.dao and @null have been set as the beneficiaries of this post with an allocation of 25% of the author rewards to each.
There was a total of 785666 blocks produced and 224760.04 SP earned during last week.
The column chart below represents the distribution of Steem Power earned by witnesses over the last week.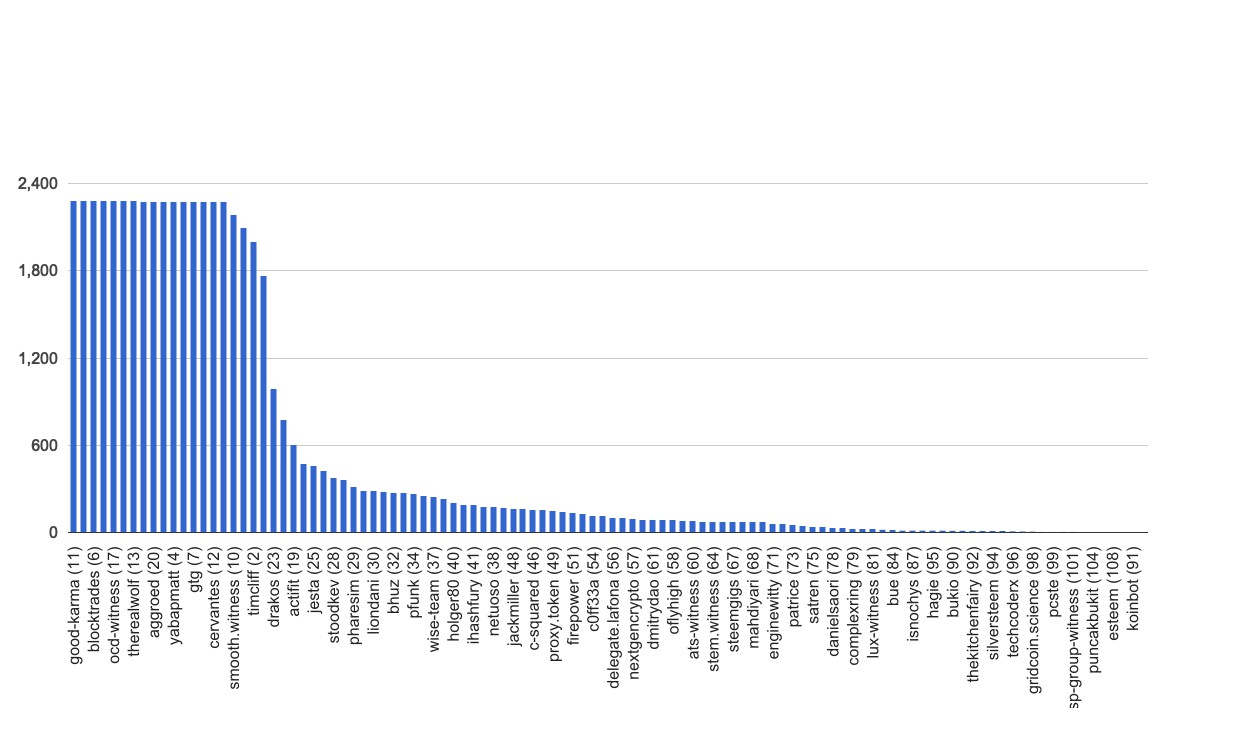 Notice the dramatic drop past the rank 20. Remember, each round is composed of each of the Top20 witnesses and one backup witness. This means each Top20 witness has to sign a block every 63 seconds (max), while for a backup witness, it will be much less often. The servers of the Top20 witnesses are thus under higher load/stress than those of the backup witnesses. You need to keep this in mind when looking at their number of missed blocks: 10 missed blocks for a witness at rank 10 does not mean the same as 10 missed blocks for a witness at rank 120 for example.
Your name might not appear in the charts below due to space limitation, this would change from week to week.
Here is the full report from all active STEEM Witnesses. Please also take this opportunity to see what they do for the community and cast a vote for them in order to help the platform.
No.
Witness
Earnings SP/USD
1
@good-karma - active rank: 11
Signed 9409 blocks with v0.22.2, missed 0 (0.00%).
2284.33 SP/w, $498.04/w
1.02%, 0.24 SP/block
2
@ausbitbank - active rank: 18
Signed 9408 blocks with v0.22.2, missed 0 (0.00%).
2284.10 SP/w, $497.99/w
1.02%, 0.24 SP/block
3
@blocktrades - active rank: 6
Signed 9400 blocks with v0.22.1, missed 1 (0.01%).
2282.17 SP/w, $497.57/w
1.02%, 0.24 SP/block
4
@lukestokes.mhth - active rank: 9
Signed 9398 blocks with v0.22.2, missed 0 (0.00%).
2281.67 SP/w, $497.46/w
1.02%, 0.24 SP/block
5
@ocd-witness - active rank: 17
Signed 9398 blocks with v0.22.2, missed 0 (0.00%).
2281.66 SP/w, $497.46/w
1.02%, 0.24 SP/block
6
@roelandp - active rank: 3
Signed 9394 blocks with v0.22.2, missed 0 (0.00%).
2280.69 SP/w, $497.24/w
1.01%, 0.24 SP/block
7
@therealwolf - active rank: 13
Signed 9392 blocks with v0.22.2, missed 1 (0.01%).
2280.17 SP/w, $497.13/w
1.01%, 0.24 SP/block
8
@anyx - active rank: 16
Signed 9388 blocks with v0.22.1, missed 0 (0.00%).
2279.26 SP/w, $496.93/w
1.01%, 0.24 SP/block
9
@aggroed - active rank: 20
Signed 9387 blocks with v0.22.2, missed 0 (0.00%).
2279.01 SP/w, $496.88/w
1.01%, 0.24 SP/block
10
@themarkymark - active rank: 5
Signed 9386 blocks with v0.22.2, missed 2 (0.02%).
2278.78 SP/w, $496.83/w
1.01%, 0.24 SP/block
11
@yabapmatt - active rank: 4
Signed 9380 blocks with v0.22.2, missed 0 (0.00%).
2277.29 SP/w, $496.50/w
1.01%, 0.24 SP/block
12
@thecryptodrive - active rank: 15
Signed 9374 blocks with v0.22.2, missed 0 (0.00%).
2275.83 SP/w, $496.19/w
1.01%, 0.24 SP/block
13
@gtg - active rank: 7
Signed 9374 blocks with v0.22.1, missed 0 (0.00%).
2275.83 SP/w, $496.18/w
1.01%, 0.24 SP/block
14
@steempeak - active rank: 14
Signed 9373 blocks with v0.22.1, missed 0 (0.00%).
2275.59 SP/w, $496.13/w
1.01%, 0.24 SP/block
15
@cervantes - active rank: 12
Signed 9370 blocks with v0.22.1, missed 0 (0.00%).
2274.86 SP/w, $495.97/w
1.01%, 0.24 SP/block
16
@someguy123 - active rank: 1
Signed 9369 blocks with v0.22.2, missed 2 (0.02%).
2274.63 SP/w, $495.92/w
1.01%, 0.24 SP/block
17
@smooth.witness - active rank: 10
Signed 9021 blocks with v0.22.0, missed 0 (0.00%).
2189.71 SP/w, $477.41/w
0.97%, 0.24 SP/block
18
@clayop - active rank: 21
Signed 8592 blocks with v0.22.0, missed 1 (0.01%).
2095.03 SP/w, $456.77/w
0.93%, 0.24 SP/block
19
@timcliff - active rank: 2
Signed 8000 blocks with v0.22.1, missed 0 (0.00%).
2001.55 SP/w, $436.39/w
0.89%, 0.25 SP/block
20
@emrebeyler - active rank: 8
Signed 6835 blocks with v0.22.2, missed 0 (0.00%).
1764.93 SP/w, $384.80/w
0.79%, 0.26 SP/block
21
@drakos - active rank: 23
Signed 3037 blocks with v0.22.2, missed 1 (0.03%).
992.26 SP/w, $216.34/w
0.44%, 0.33 SP/block
22
@curie - active rank: 24
Signed 1915 blocks with v0.22.1, missed 0 (0.00%).
778.58 SP/w, $169.75/w
0.35%, 0.41 SP/block
23
@actifit - active rank: 19
Signed 1104 blocks with v0.22.1, missed 0 (0.00%).
607.43 SP/w, $132.43/w
0.27%, 0.55 SP/block
24
@followbtcnews - active rank: 22
Signed 547 blocks with v0.22.2, missed 0 (0.00%).
472.84 SP/w, $103.09/w
0.21%, 0.86 SP/block
25
@jesta - active rank: 25
Signed 376 blocks with v0.22.1, missed 0 (0.00%).
457.37 SP/w, $99.72/w
0.20%, 1.22 SP/block
26
@steempress - active rank: 26
Signed 349 blocks with v0.22.2, missed 0 (0.00%).
424.53 SP/w, $92.56/w
0.19%, 1.22 SP/block
27
@stoodkev - active rank: 28
Signed 311 blocks with v0.22.0, missed 0 (0.00%).
378.29 SP/w, $82.48/w
0.17%, 1.22 SP/block
28
@abit - active rank: 27
Signed 299 blocks with v0.22.2, missed 0 (0.00%).
363.86 SP/w, $79.33/w
0.16%, 1.22 SP/block
29
@pharesim - active rank: 29
Signed 261 blocks with v0.22.0, missed 0 (0.00%).
317.48 SP/w, $69.22/w
0.14%, 1.22 SP/block
30
@busy.witness - active rank: 31
Signed 238 blocks with v0.22.0, missed 0 (0.00%).
289.50 SP/w, $63.12/w
0.13%, 1.22 SP/block
31
@liondani - active rank: 30
Signed 238 blocks with v0.22.2, missed 0 (0.00%).
289.49 SP/w, $63.12/w
0.13%, 1.22 SP/block
32
@arcange - active rank: 33
Signed 229 blocks with v0.22.1, missed 0 (0.00%).
278.57 SP/w, $60.73/w
0.12%, 1.22 SP/block
33
@bhuz - active rank: 32
Signed 227 blocks with v0.22.2, missed 0 (0.00%).
276.12 SP/w, $60.20/w
0.12%, 1.22 SP/block
34
@riverhead - active rank: 36
Signed 225 blocks with v0.22.1, missed 0 (0.00%).
273.68 SP/w, $59.67/w
0.12%, 1.22 SP/block
35
@pfunk - active rank: 34
Signed 223 blocks with v0.22.1, missed 0 (0.00%).
271.23 SP/w, $59.14/w
0.12%, 1.22 SP/block
36
@blockbrothers - active rank: 35
Signed 210 blocks with v0.22.1, missed 0 (0.00%).
255.53 SP/w, $55.71/w
0.11%, 1.22 SP/block
37
@wise-team - active rank: 37
Signed 206 blocks with v0.22.1, missed 0 (0.00%).
250.60 SP/w, $54.64/w
0.11%, 1.22 SP/block
38
@steemhunt - active rank: 39
Signed 192 blocks with v0.22.0, missed 0 (0.00%).
233.55 SP/w, $50.92/w
0.10%, 1.22 SP/block
39
@holger80 - active rank: 40
Signed 169 blocks with v0.22.1, missed 0 (0.00%).
205.57 SP/w, $44.82/w
0.09%, 1.22 SP/block
40
@kevinwong - active rank: 42
Signed 161 blocks with v0.22.1, missed 0 (0.00%).
195.77 SP/w, $42.68/w
0.09%, 1.22 SP/block
41
@ihashfury - active rank: 41
Signed 159 blocks with v0.22.1, missed 0 (0.00%).
193.40 SP/w, $42.17/w
0.09%, 1.22 SP/block
42
@aizensou - active rank: 43
Signed 148 blocks with v0.22.2, missed 0 (0.00%).
180.02 SP/w, $39.25/w
0.08%, 1.22 SP/block
43
@netuoso - active rank: 38
Signed 146 blocks with v0.22.2, missed 0 (0.00%).
177.62 SP/w, $38.72/w
0.08%, 1.22 SP/block
44
@neoxian - active rank: 45
Signed 141 blocks with v0.22.0, missed 0 (0.00%).
171.52 SP/w, $37.40/w
0.08%, 1.22 SP/block
45
@jackmiller - active rank: 48
Signed 134 blocks with v0.22.2, missed 0 (0.00%).
163.00 SP/w, $35.54/w
0.07%, 1.22 SP/block
46
@coingecko - active rank: 44
Signed 134 blocks with v0.22.1, missed 0 (0.00%).
162.99 SP/w, $35.54/w
0.07%, 1.22 SP/block
47
@c-squared - active rank: 46
Signed 131 blocks with v0.22.1, missed 0 (0.00%).
159.34 SP/w, $34.74/w
0.07%, 1.22 SP/block
48
@quochuy - active rank: 47
Signed 130 blocks with v0.22.1, missed 0 (0.00%).
158.16 SP/w, $34.48/w
0.07%, 1.22 SP/block
49
@proxy.token - active rank: 49
Signed 127 blocks with v0.22.1, missed 0 (0.00%).
154.51 SP/w, $33.69/w
0.07%, 1.22 SP/block
50
@guiltyparties - active rank: 50
Signed 119 blocks with v0.22.1, missed 0 (0.00%).
144.76 SP/w, $31.56/w
0.06%, 1.22 SP/block
51
@firepower - active rank: 51
Signed 115 blocks with v0.22.1, missed 0 (0.00%).
139.89 SP/w, $30.50/w
0.06%, 1.22 SP/block
52
@steemitboard - active rank: 52
Signed 109 blocks with v0.22.1, missed 0 (0.00%).
132.59 SP/w, $28.91/w
0.06%, 1.22 SP/block
53
@c0ff33a - active rank: 54
Signed 95 blocks with v0.22.2, missed 1 (1.04%).
115.55 SP/w, $25.19/w
0.05%, 1.22 SP/block
54
@justyy - active rank: 53
Signed 94 blocks with v0.22.1, missed 0 (0.00%).
114.34 SP/w, $24.93/w
0.05%, 1.22 SP/block
55
@delegate.lafona - active rank: 56
Signed 84 blocks with v0.22.0, missed 0 (0.00%).
102.19 SP/w, $22.28/w
0.05%, 1.22 SP/block
56
@dragosroua - active rank: 55
Signed 83 blocks with v0.22.1, missed 0 (0.00%).
100.99 SP/w, $22.02/w
0.04%, 1.22 SP/block
57
@nextgencrypto - active rank: 57
Signed 78 blocks with v0.22.2, missed 0 (0.00%).
94.87 SP/w, $20.68/w
0.04%, 1.22 SP/block
58
@ura-soul - active rank: 59
Signed 76 blocks with v0.22.1, missed 0 (0.00%).
92.47 SP/w, $20.16/w
0.04%, 1.22 SP/block
59
@dmitrydao - active rank: 61
Signed 72 blocks with v0.22.0, missed 0 (0.00%).
87.57 SP/w, $19.09/w
0.04%, 1.22 SP/block
60
@fyrst-witness - active rank: 62
Signed 72 blocks with v0.22.1, missed 0 (0.00%).
87.55 SP/w, $19.09/w
0.04%, 1.22 SP/block
61
@oflyhigh - active rank: 58
Signed 71 blocks with v0.22.2, missed 0 (0.00%).
86.38 SP/w, $18.83/w
0.04%, 1.22 SP/block
62
@adsactly-witness - active rank: 63
Signed 67 blocks with v0.22.0, missed 0 (0.00%).
81.51 SP/w, $17.77/w
0.04%, 1.22 SP/block
63
@ats-witness - active rank: 60
Signed 66 blocks with v0.22.1, missed 0 (0.00%).
80.24 SP/w, $17.50/w
0.04%, 1.22 SP/block
64
@klye - active rank: 66
Signed 62 blocks with v0.22.1, missed 0 (0.00%).
75.44 SP/w, $16.45/w
0.03%, 1.22 SP/block
65
@stem.witness - active rank: 64
Signed 62 blocks with v0.22.1, missed 0 (0.00%).
75.41 SP/w, $16.44/w
0.03%, 1.22 SP/block
66
@qurator - active rank: 65
Signed 62 blocks with v0.22.0, missed 0 (0.00%).
75.41 SP/w, $16.44/w
0.03%, 1.22 SP/block
67
@steemgigs - active rank: 67
Signed 61 blocks with v0.22.1, missed 0 (0.00%).
74.20 SP/w, $16.18/w
0.03%, 1.22 SP/block
68
@crowdwitness - active rank: 69
Signed 61 blocks with v0.22.1, missed 0 (0.00%).
74.20 SP/w, $16.18/w
0.03%, 1.22 SP/block
69
@mahdiyari - active rank: 68
Signed 60 blocks with v0.22.1, missed 0 (0.00%).
72.99 SP/w, $15.91/w
0.03%, 1.22 SP/block
70
@ro-witness - active rank: 70
Signed 60 blocks with v0.22.0, missed 0 (0.00%).
72.98 SP/w, $15.91/w
0.03%, 1.22 SP/block
71
@enginewitty - active rank: 71
Signed 53 blocks with v0.22.1, missed 0 (0.00%).
64.46 SP/w, $14.05/w
0.03%, 1.22 SP/block
72
@steemychicken1 - active rank: 72
Signed 49 blocks with v0.22.2, missed 0 (0.00%).
59.60 SP/w, $12.99/w
0.03%, 1.22 SP/block
73
@patrice - active rank: 73
Signed 47 blocks with v0.22.1, missed 2 (4.08%).
57.15 SP/w, $12.46/w
0.03%, 1.22 SP/block
74
@b0y2k - active rank: 74
Signed 40 blocks with v0.22.2, missed 0 (0.00%).
48.66 SP/w, $10.61/w
0.02%, 1.22 SP/block
75
@satren - active rank: 75
Signed 36 blocks with v0.22.1, missed 0 (0.00%).
43.80 SP/w, $9.55/w
0.02%, 1.22 SP/block
76
@untersatz - active rank: 76
Signed 33 blocks with v0.22.1, missed 0 (0.00%).
40.16 SP/w, $8.76/w
0.02%, 1.22 SP/block
77
@danielsaori - active rank: 78
Signed 29 blocks with v0.22.1, missed 0 (0.00%).
35.27 SP/w, $7.69/w
0.02%, 1.22 SP/block
78
@dsound - active rank: 77
Signed 27 blocks with v0.22.1, missed 0 (0.00%).
32.83 SP/w, $7.16/w
0.01%, 1.22 SP/block
79
@complexring - active rank: 79
Signed 25 blocks with v0.22.2, missed 0 (0.00%).
30.40 SP/w, $6.63/w
0.01%, 1.22 SP/block
80
@cryptopassion - active rank: 80
Signed 23 blocks with v0.22.1, missed 0 (0.00%).
27.97 SP/w, $6.10/w
0.01%, 1.22 SP/block
81
@lux-witness - active rank: 81
Signed 21 blocks with v0.22.1, missed 0 (0.00%).
25.55 SP/w, $5.57/w
0.01%, 1.22 SP/block
82
@blackwidow - active rank: 82
Signed 19 blocks with v0.22.0, missed 0 (0.00%).
23.10 SP/w, $5.04/w
0.01%, 1.22 SP/block
83
@bue - active rank: 84
Signed 15 blocks with v0.22.1, missed 0 (0.00%).
18.24 SP/w, $3.98/w
0.01%, 1.22 SP/block
84
@r0nd0n - active rank: 83
Signed 13 blocks with v0.22.1, missed 0 (0.00%).
15.83 SP/w, $3.45/w
0.01%, 1.22 SP/block
85
@isnochys - active rank: 87
Signed 13 blocks with v0.22.2, missed 0 (0.00%).
15.82 SP/w, $3.45/w
0.01%, 1.22 SP/block
86
@yehey - active rank: 86
Signed 13 blocks with v0.22.1, missed 0 (0.00%).
15.82 SP/w, $3.45/w
0.01%, 1.22 SP/block
87
@hagie - active rank: 95
Signed 13 blocks with v0.22.2, missed 0 (0.00%).
15.81 SP/w, $3.45/w
0.01%, 1.22 SP/block
88
@ety001 - active rank: 85
Signed 13 blocks with v0.22.1, missed 4 (23.53%).
15.81 SP/w, $3.45/w
0.01%, 1.22 SP/block
89
@bukio - active rank: 90
Signed 12 blocks with v0.22.1, missed 0 (0.00%).
14.60 SP/w, $3.18/w
0.01%, 1.22 SP/block
90
@prc - active rank: 89
Signed 12 blocks with v0.22.1, missed 0 (0.00%).
14.60 SP/w, $3.18/w
0.01%, 1.22 SP/block
91
@thekitchenfairy - active rank: 92
Signed 11 blocks with v0.22.0, missed 0 (0.00%).
13.38 SP/w, $2.92/w
0.01%, 1.22 SP/block
92
@bobinson - active rank: 93
Signed 11 blocks with v0.22.1, missed 0 (0.00%).
13.38 SP/w, $2.92/w
0.01%, 1.22 SP/block
93
@silversteem - active rank: 94
Signed 11 blocks with v0.22.2, missed 0 (0.00%).
13.38 SP/w, $2.92/w
0.01%, 1.22 SP/block
94
@travelfeed - active rank: 88
Signed 11 blocks with v0.22.1, missed 0 (0.00%).
13.37 SP/w, $2.91/w
0.01%, 1.22 SP/block
95
@techcoderx - active rank: 96
Signed 8 blocks with v0.22.1, missed 0 (0.00%).
9.73 SP/w, $2.12/w
0.00%, 1.22 SP/block
96
@dpoll.witness - active rank: 97
Signed 7 blocks with v0.22.1, missed 0 (0.00%).
8.51 SP/w, $1.86/w
0.00%, 1.22 SP/block
97
@gridcoin.science - active rank: 98
Signed 6 blocks with v0.22.1, missed 0 (0.00%).
7.29 SP/w, $1.59/w
0.00%, 1.22 SP/block
98
@jamzed - active rank: 100
Signed 4 blocks with v0.22.0, missed 0 (0.00%).
4.87 SP/w, $1.06/w
0.00%, 1.22 SP/block
99
@pcste - active rank: 99
Signed 4 blocks with v0.22.1, missed 0 (0.00%).
4.86 SP/w, $1.06/w
0.00%, 1.22 SP/block
100
@future.witness - active rank: 102
Signed 4 blocks with v0.22.1, missed 0 (0.00%).
4.86 SP/w, $1.06/w
0.00%, 1.22 SP/block
101
@sp-group-witness - active rank: 101
Signed 4 blocks with v0.22.1, missed 0 (0.00%).
4.86 SP/w, $1.06/w
0.00%, 1.22 SP/block
102
@steemitportugal - active rank: 105
Signed 2 blocks with v0.22.1, missed 0 (0.00%).
2.44 SP/w, $0.53/w
0.00%, 1.22 SP/block
103
@puncakbukit - active rank: 104
Signed 2 blocks with v0.22.1, missed 0 (0.00%).
2.43 SP/w, $0.53/w
0.00%, 1.22 SP/block
104
@whiterosecoffee - active rank: 107
Signed 1 blocks with v0.22.1, missed 0 (0.00%).
1.22 SP/w, $0.27/w
0.00%, 1.22 SP/block
105
@esteem - active rank: 108
Signed 1 blocks with v0.22.1, missed 0 (0.00%).
1.22 SP/w, $0.27/w
0.00%, 1.22 SP/block
106
@rotfl - active rank: 103
Signed 1 blocks with v0.22.1, missed 0 (0.00%).
1.22 SP/w, $0.27/w
0.00%, 1.22 SP/block
107
@koinbot - active rank: 91
Signed 1 blocks with v0.22.1, missed 0 (0.00%).
1.21 SP/w, $0.26/w
0.00%, 1.21 SP/block
108
@gulfwaves.net - active rank: 106
Signed 1 blocks with v0.22.1, missed 0 (0.00%).
1.21 SP/w, $0.26/w
0.00%, 1.21 SP/block