California 2013 - Calico ghost town [EN/DE]
---
♞
Dear Steemians, I´m starting a new series today, which will take us through California. In 2013 my husband @michaeldietrich and I had an awesome roadtrip which took us in to many famous and not so famous places. We started in Los Angeles and three weeks later the tour ended there. I don´t want to focus so much on the big cities like L.A., Las Vegas and San Francisco. It was the diverse nature and special places that made us wonder.
Liebe Steemianer, heute beginne ich eine neue Serie, die uns durch Kalifornien führt. 2013 unternahmen mein Mann @michaeldietrich und ich eine großartige Rundreise, die uns zu vielen berühmten und nicht so berühmten Orten führte. Wir starteten in Los Angeles und drei Wochen später endete die Tour auch dort. Ich möchte mich nicht so sehr auf die großen Städte wie L.A., Las Vegas und San Francisco konzentrieren. Es war die vielfältige Natur und die besonderen Orte, die uns staunen ließ...
♞
♞
So I´m going to start with our stop in Calico, an old abandoned mining town from 1881. It was on the way from L.A. to Las Vegas, located in the Mojave desert. Of course Calico is prepared to please tourists, you have to pay entrace, there were busses with travel parties stopping as well, shops and restaurants. Still it wasn´t crowded and we enjoyed the atmosphere of a ghost town, where hundred years ago some brave guys were mining silver...
Ich beginne mit unserem Zwischenstop in Calico, einer alten verlassenen Bergbaustadt aus dem Jahr 1881. Sie befand sich auf dem Weg von LA nach Las Vegas in der Mojave-Wüste. Natürlich ist Calico bereit, Touristen zu gefallen, man muss Eintritt bezahlen, es gab Busse mit Reisegruppen, Läden und Restaurants. Trotzdem war es nicht überfüllt und wir genossen die Atmosphäre einer Geisterstadt, in der vor hundert Jahren einige tapfere Jungs Silber abbauten ...
♞
Luckily you can not get lost on the way there | Zum Glück kann man sich unterwegs kaum verirren
♞
If you came here by horse, here´s your parking place ;) | Falls man mit dem Pferd kommt, kann man hier parken ;)
♞
The railroad | Die Eisenbahn
♞
The sheriff´s office and his company car | Das Büro des Sheriffs und sein Dienstwagen
♞
Oh - a cowgirl! | Oh, ein Cowgirl!
♞
Need a bath with treatment after a rough day in the silver mines? No problem... Du brauchst ein Bad mit Wellness-Behandlung nach einem langen Tag in den Silberminen? Kein Problem..
♞
♞
Calico´s school house. It´s a replica of the original | Calico´s Schule, allerdings eine Nachbildung des Originals
♞
A cabin with character | Eine Hütte mit Charakter
♞
♞
Surrounding, beautifully colored desert | Die umliegende Wüste in wundervollen Farben
♞
I hope you liked my impressions. You can find informations about Calico on their official website. Much later I took some of these buildings to create an artwork, I guess you recognize them :) Next time I´m going to take you to Death Valley...
Ich hoffe euch haben meine Eindrücke gefallen. Informationen zu Calico findet man auf der offiziellen Website . Viel später habe ich ein paar dieser Gebäude genommen, um ein Bild zu machen. Ich denke, man erkennt sie: ) Nächstes Mal geht´s ins Death Valley...
---
All pictures by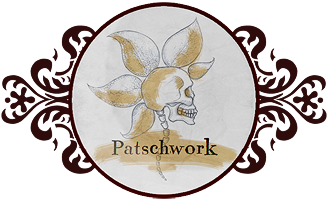 Thank you for reading! | Danke für´s Lesen!
---