Back in 2018, I had a client who wanted me to paint some flowers on her bags. They were faux leather bags. Since I haven't tried painting on leather yet, I advised her to buy cheap ones (not the Hermes or some expensive shit) cos we were at the stage of experimentation and I had no idea how to do it. Leather surfaces are different from canvas, so of course, a different method should be done. We decided to paint using acrylics first just so we could see how it works. Not sure how were the bags now since she gave them to some friends as a gift.
Since then, I've been eyeing to buy leather paints so as to not limit myself with painting only on canvas. I get bored a lot with my works and want to try on something different. So, I ordered some leather paint from The Leather Cottage. They are an online store as far as I know. Since they are from Marikina, which is well known for making good leather products, I trusted them right away.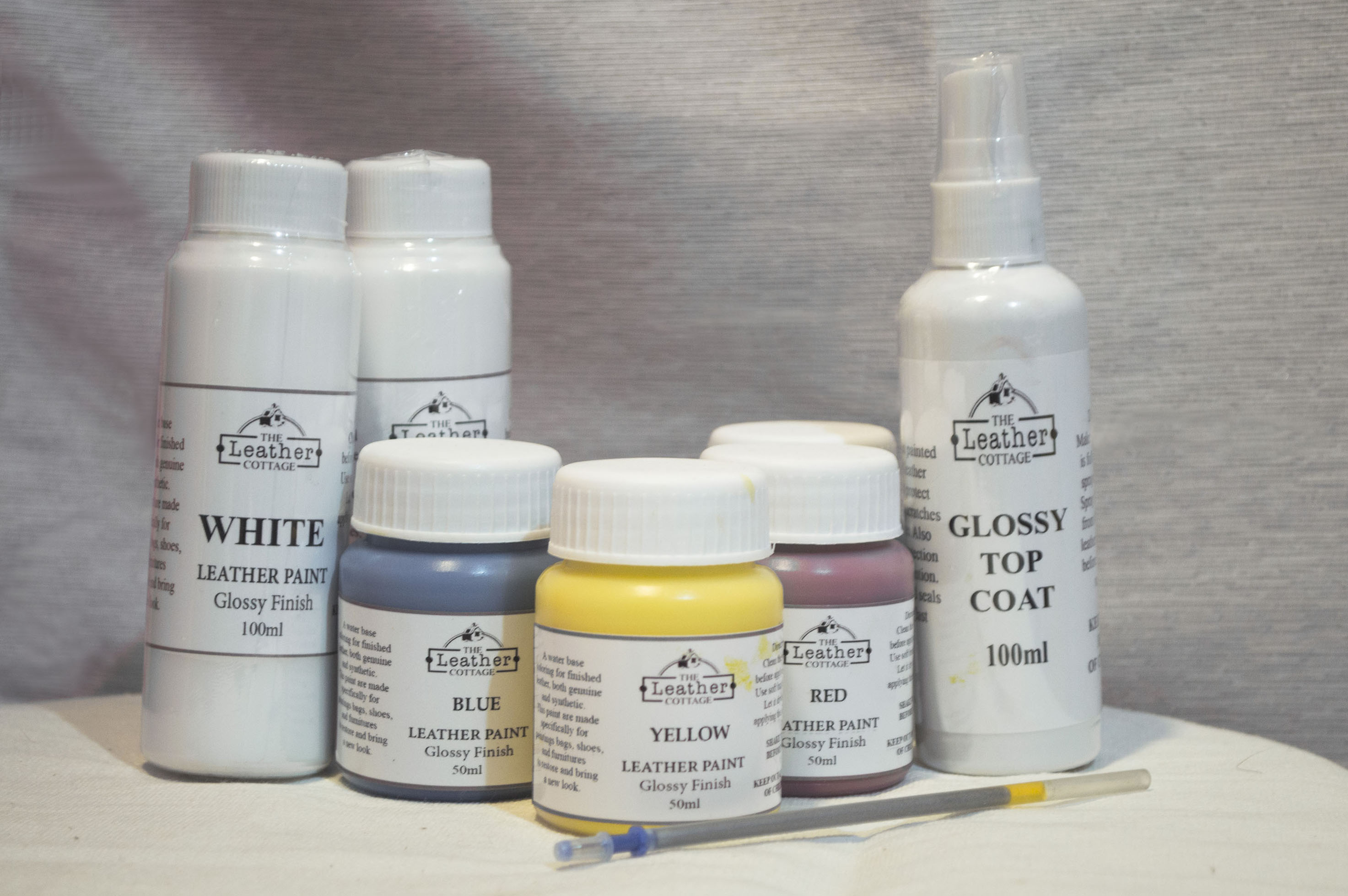 The prices of these are more affordable compared to the Angelus brand which is 6x more expensive. I ordered paints, a top coat, and a silver marking pen.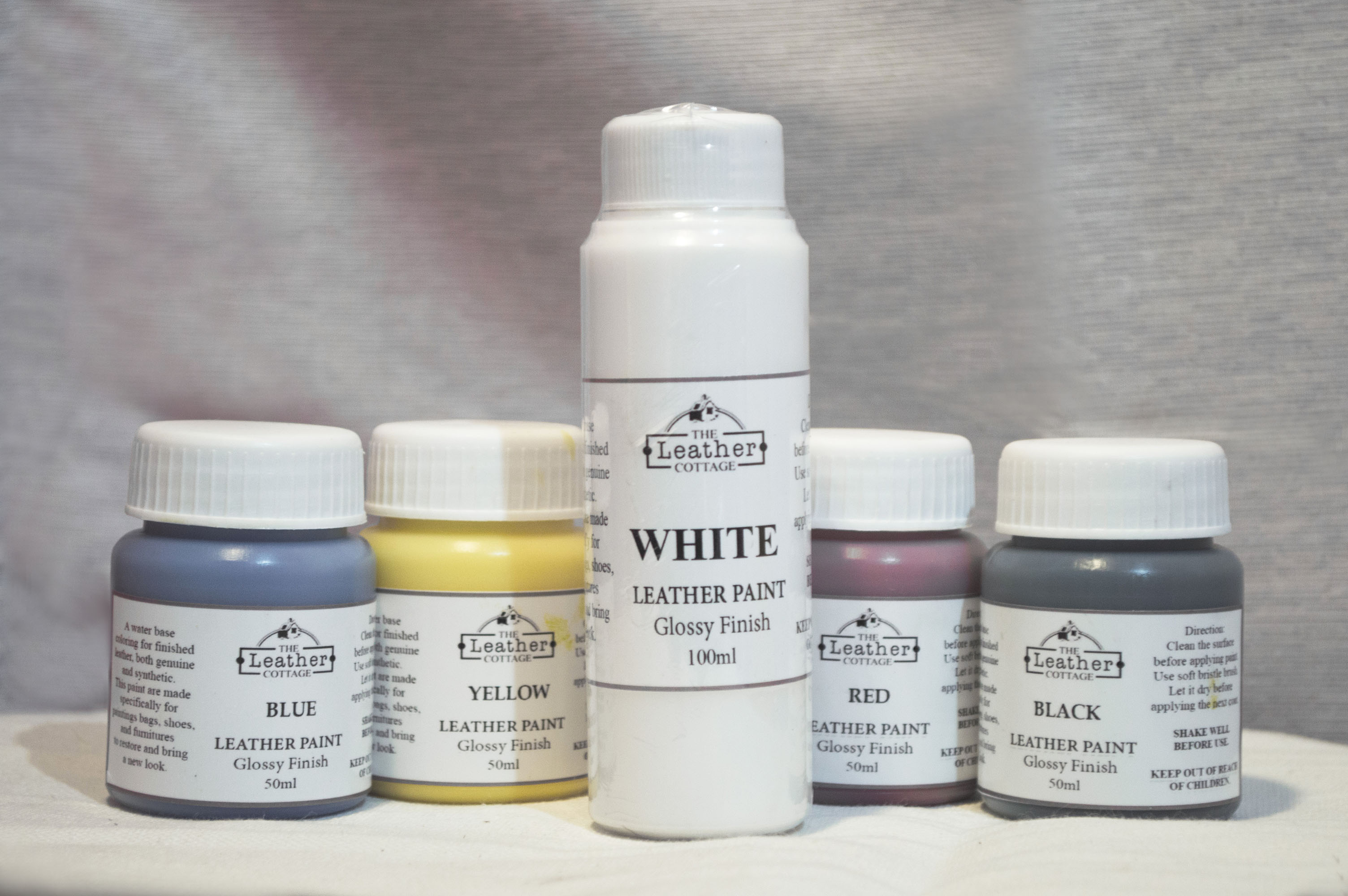 Funny if you get the joke of this one. heh.
I bought the primary colors (red, blue, yellow), 2 bottles of white paint and 1 black. I was tempted to order other colors since pretty sure I'm gonna be lazy with mixing lol but technically these are the only colors that I need.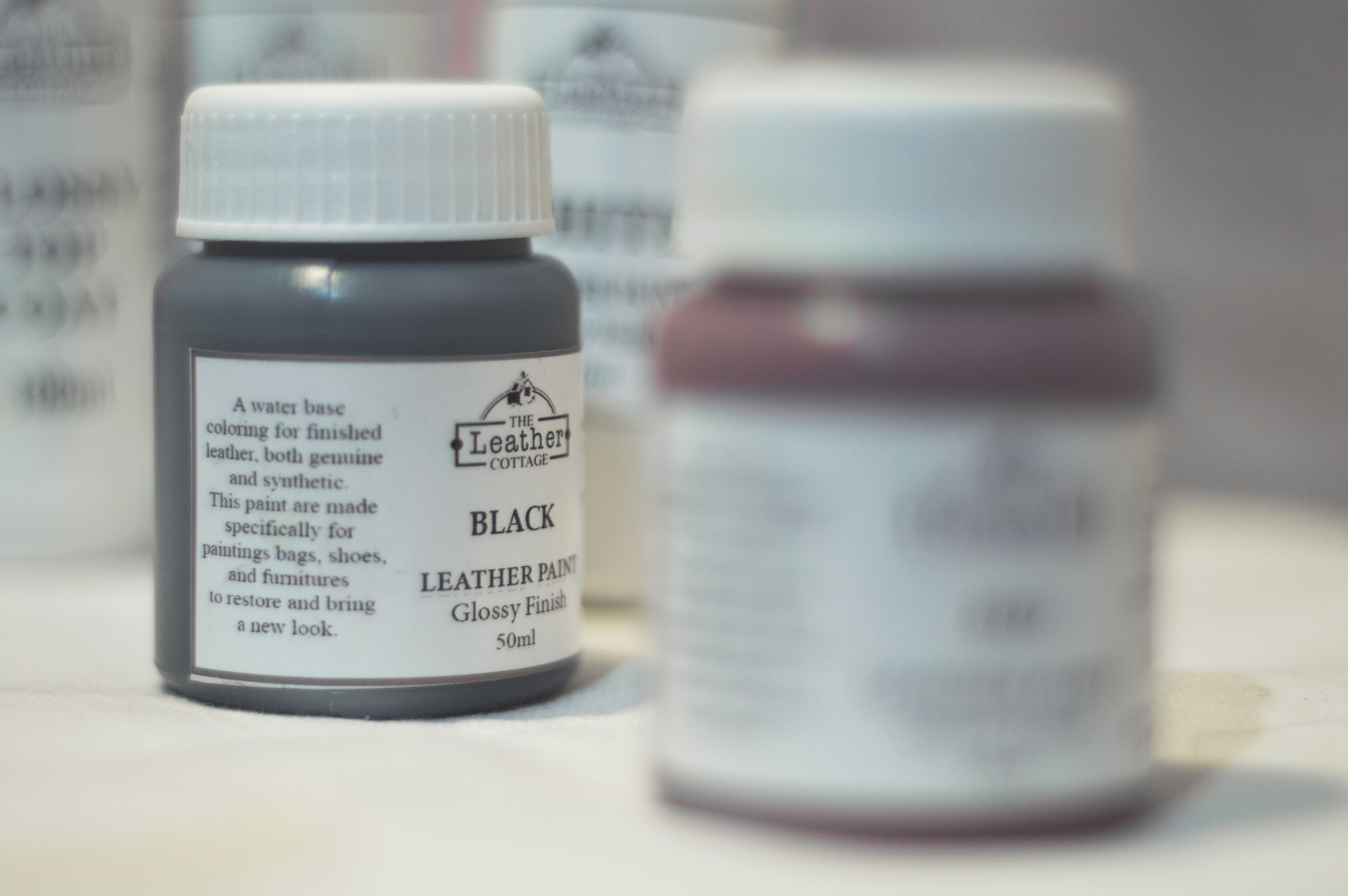 Testing the pen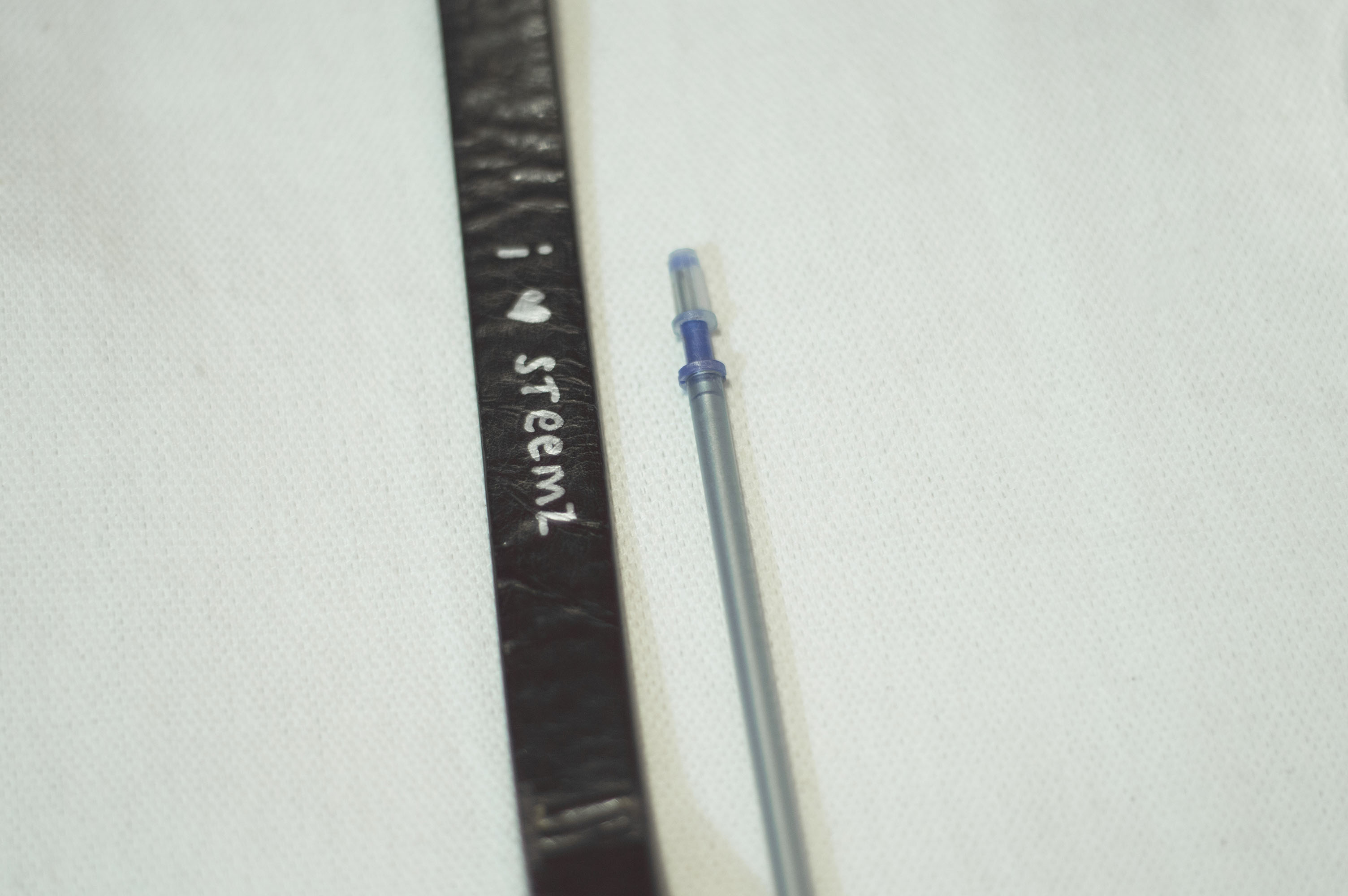 I thought the silver marking pen that I ordered was something used specifically for leather. When it arrived I was surprised it's just a normal gel pen. Lol, I could have used my own pen.
To test it, I grabbed an old belt that I don't use anymore cos it's the only leather that I have in here so far. The ink can be seen clearly.
Testing the paint

Before putting any paint on it, I cleaned the leather with acetone first to remove its final coating.
Since the surface is dark, I have painted it with white paint first. The thing that I don't like with the paint is it has too much water with little opacity. So the first layer looks like this: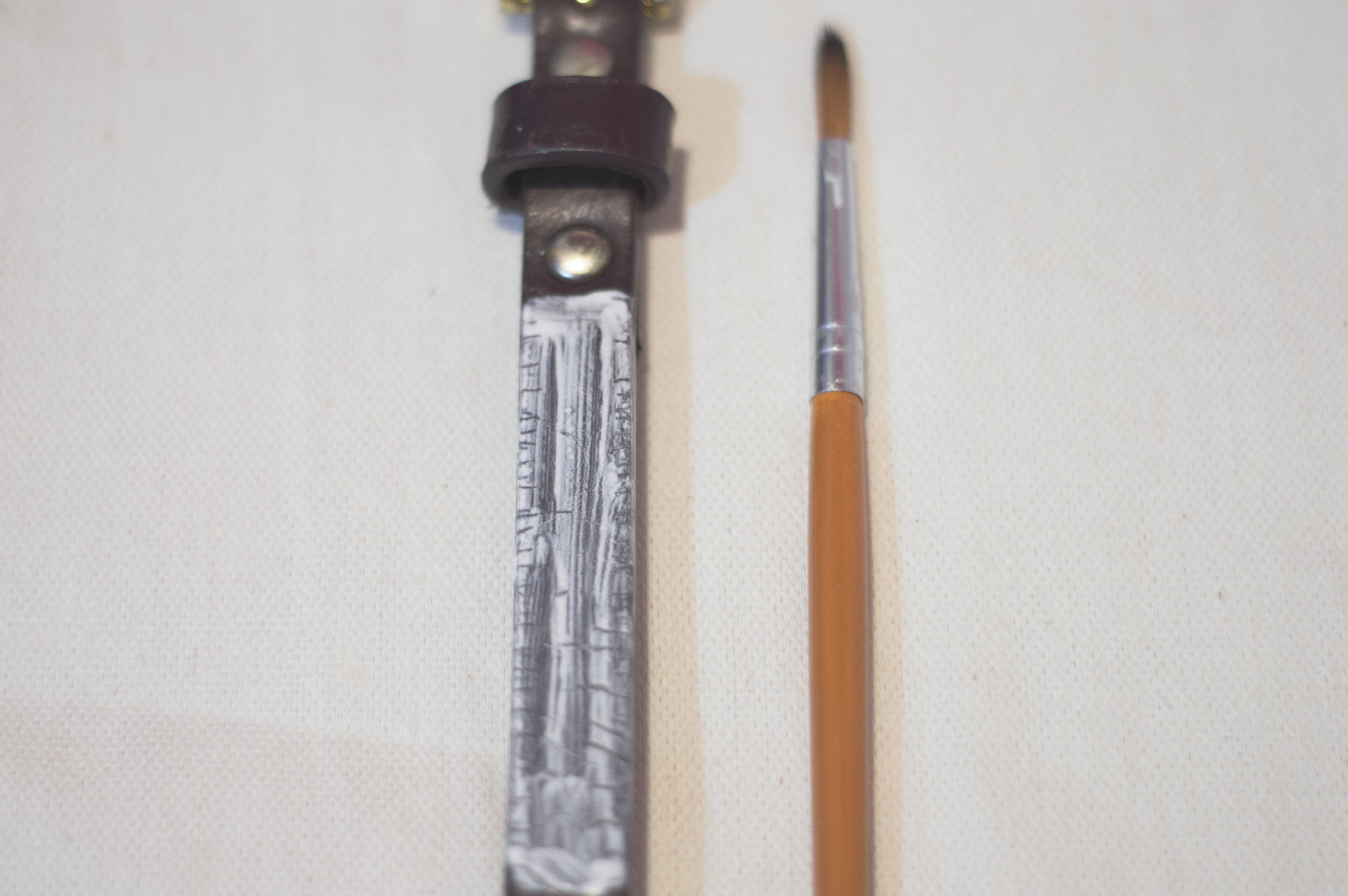 I know I shouldn't be surprised with the quality considering the price, but I guess I just expected too much given that it came from a place of the good ol leather products.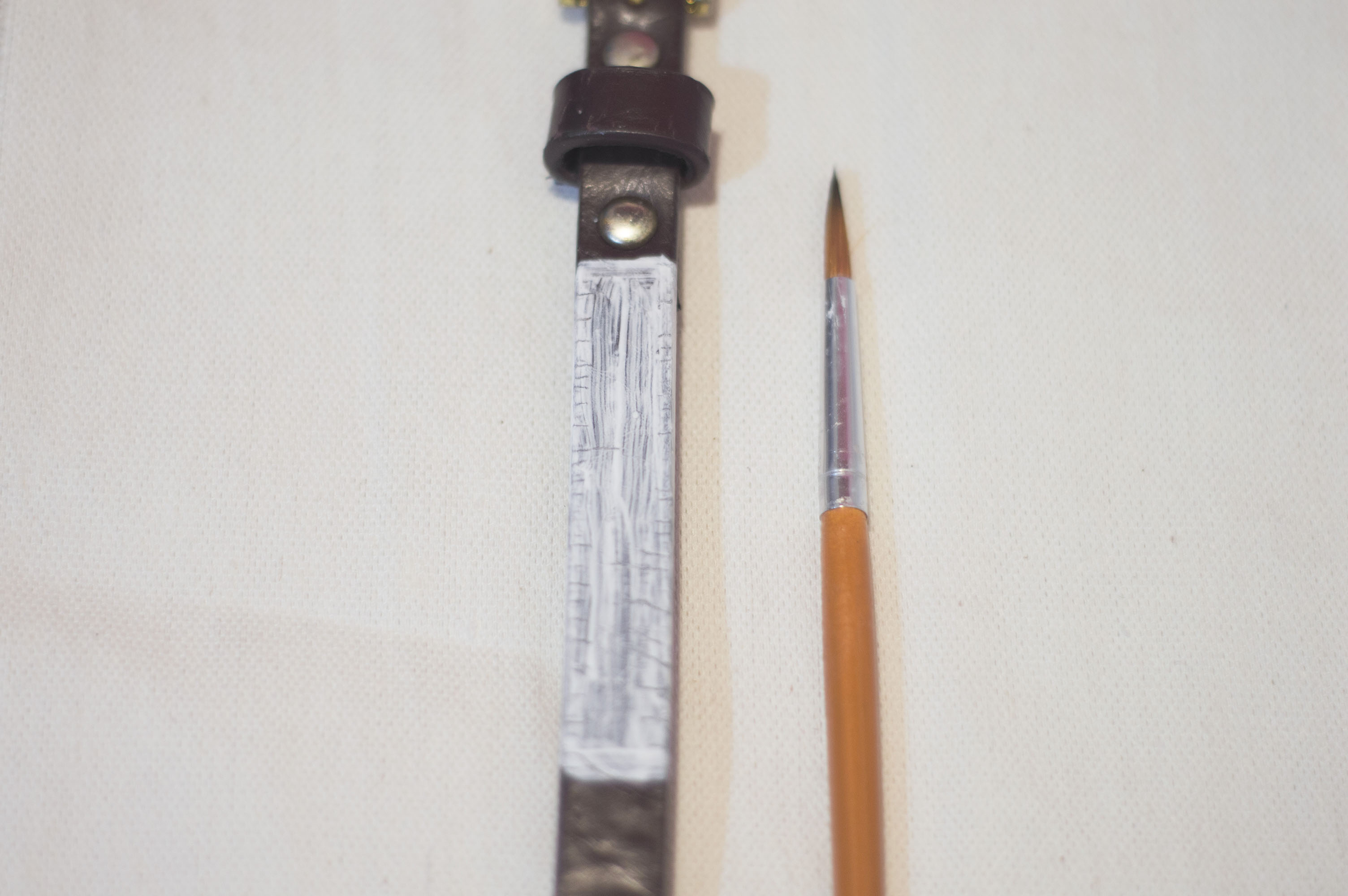 This is the second layer of the paint. I let the paint dry before painting another layer.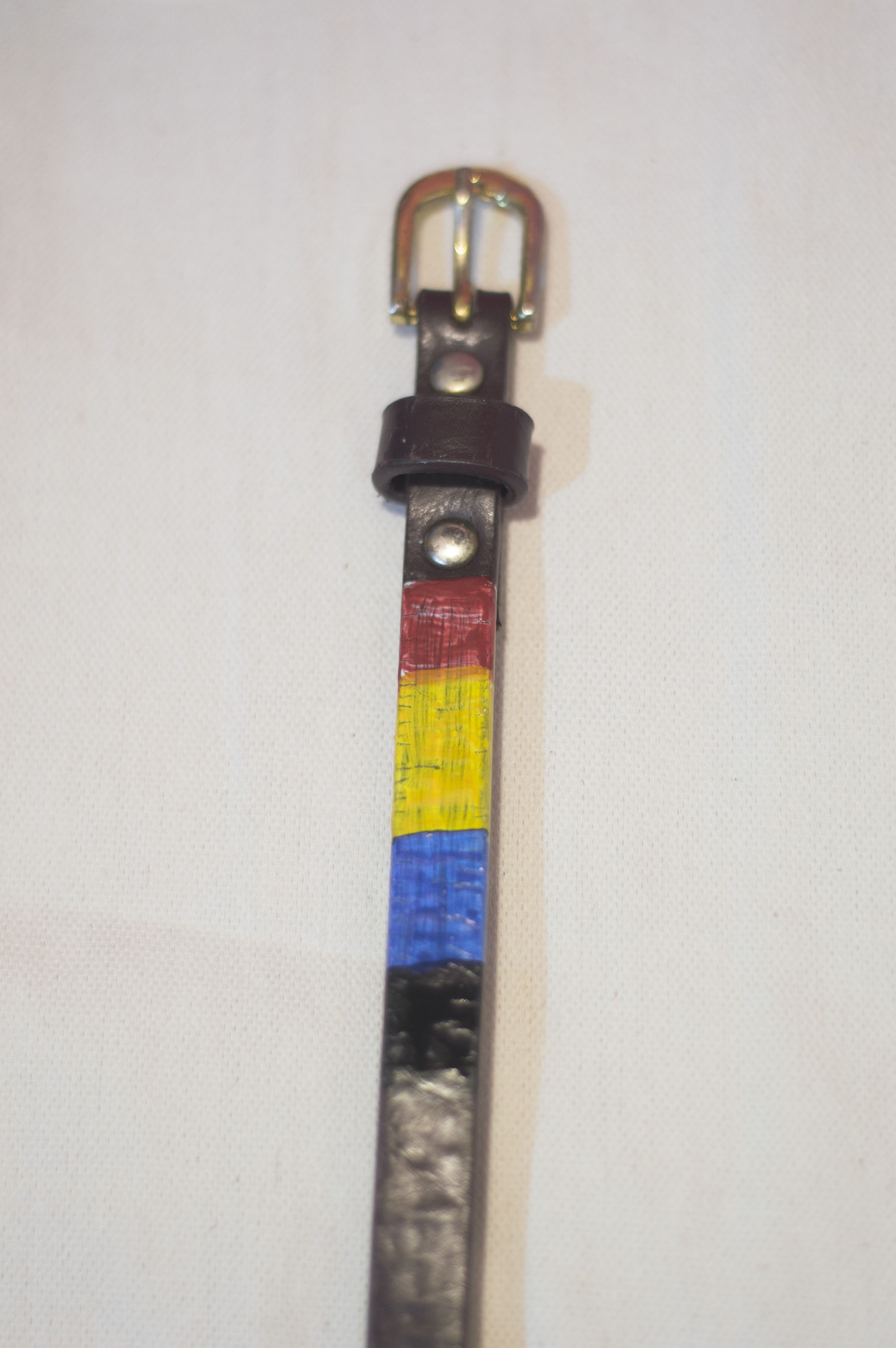 After the second layer, the original color of the belt can still be seen so I guess it needs 5 layers to properly cover it all. T_T I figured I ain't got no time fo that so I just painted the colors on top.
All of the colors are still very transparent.



I painted the second layer and this is how it looked like: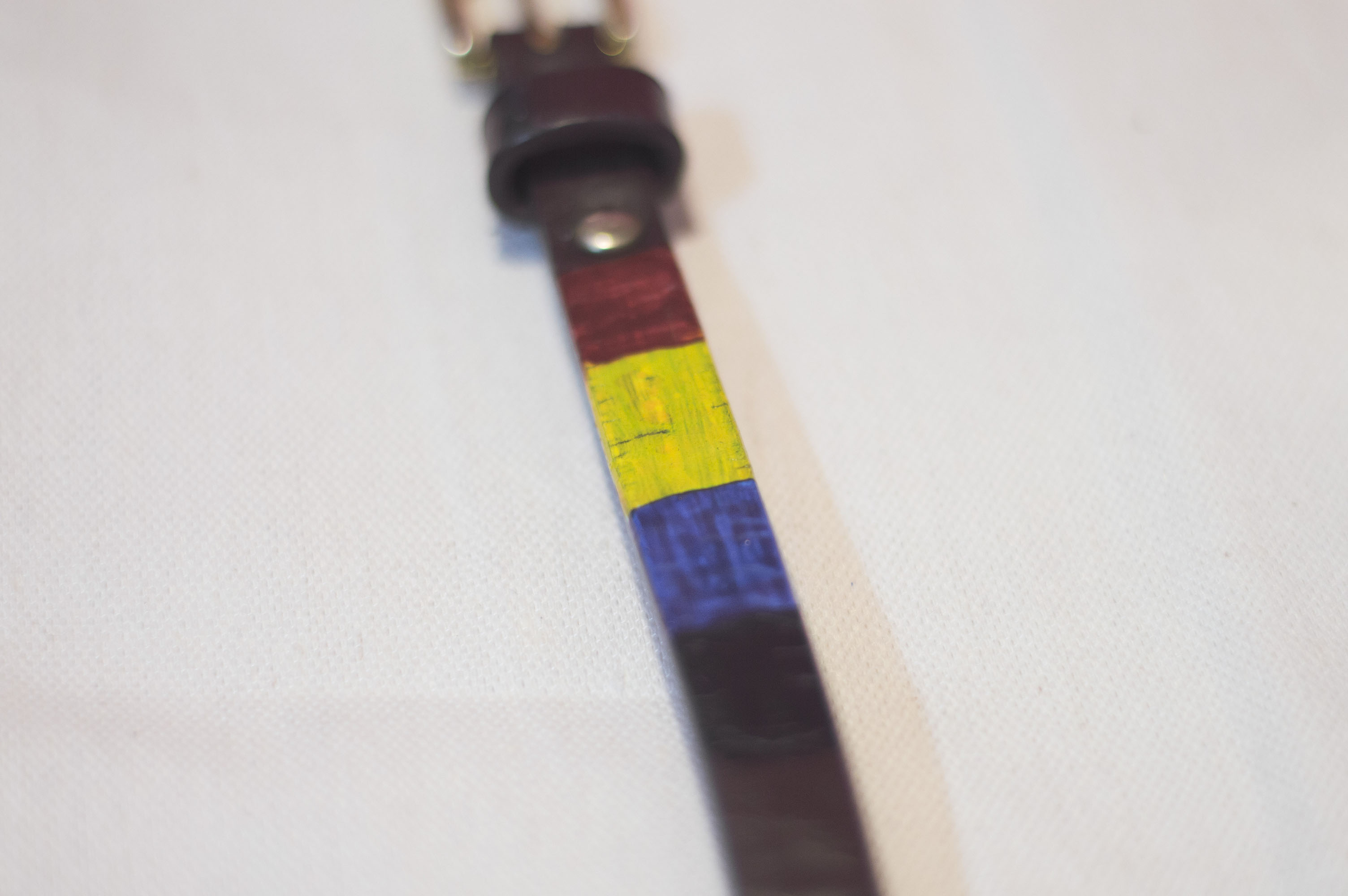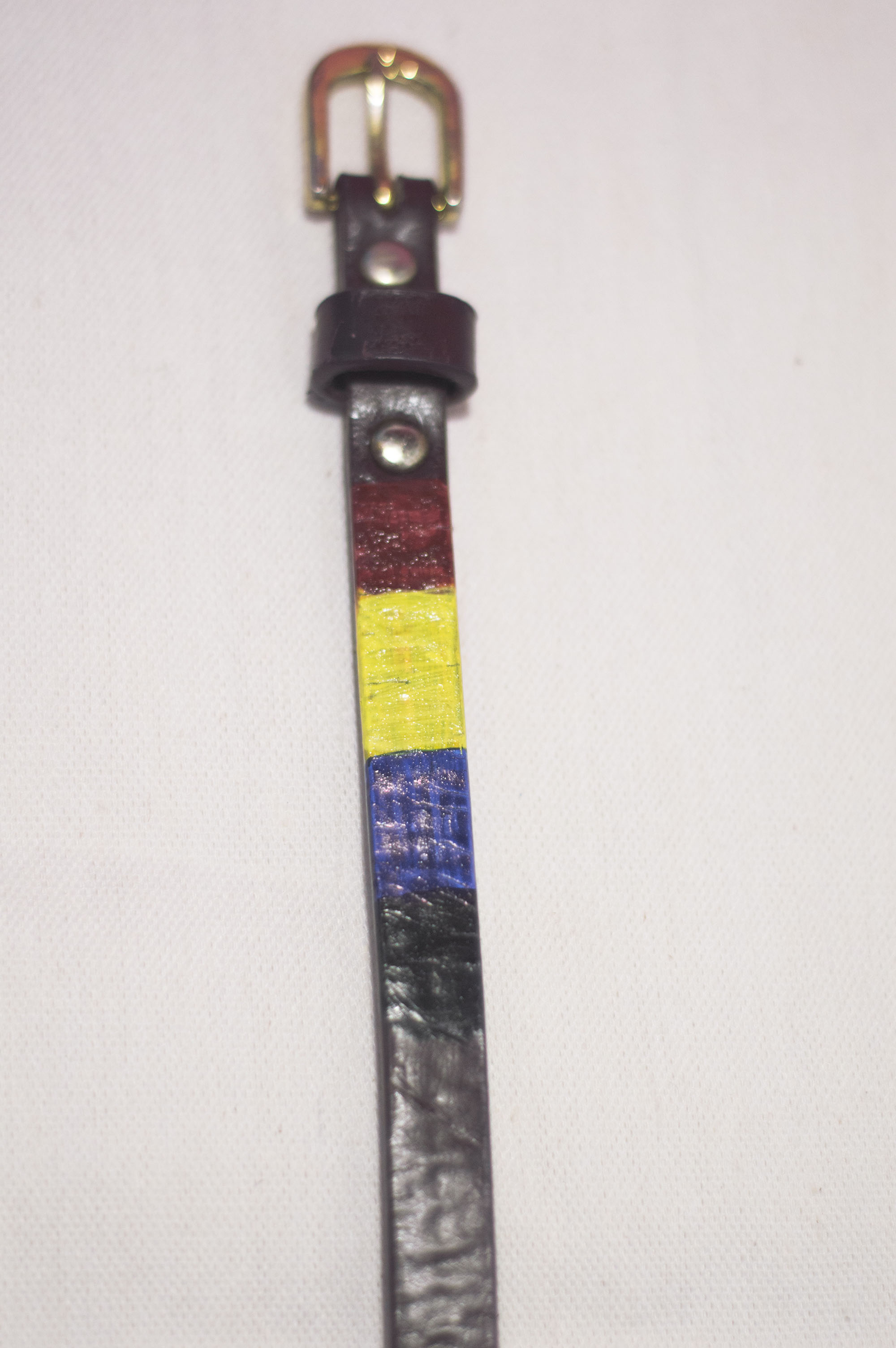 Normally, I paint and paint til the colors are properly painted but I really have no time to paint it for 5 layers and I already was disappointed of how transparent it was so I painted the 3rd layer of the primary colors. After it dried, I sprayed it with a top coat to protect it from scratches, etc.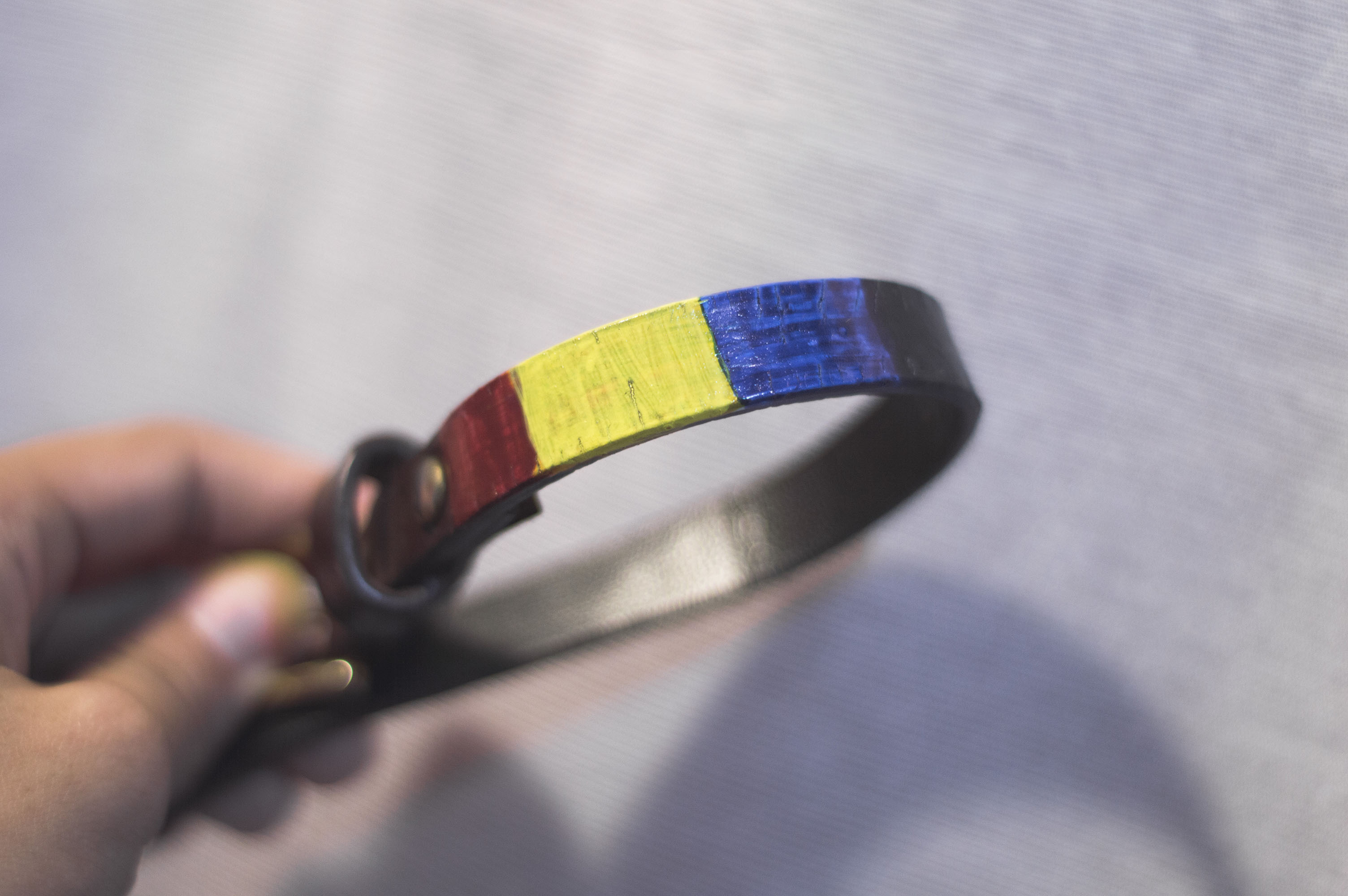 This is how it looks like after 5 layers of paint (including the white, which I used as a primer). I tried stretching it to see how it reacts. It just stretches like it was originally part of the belt, which was good. I mean, duh, it's a leather paint. xD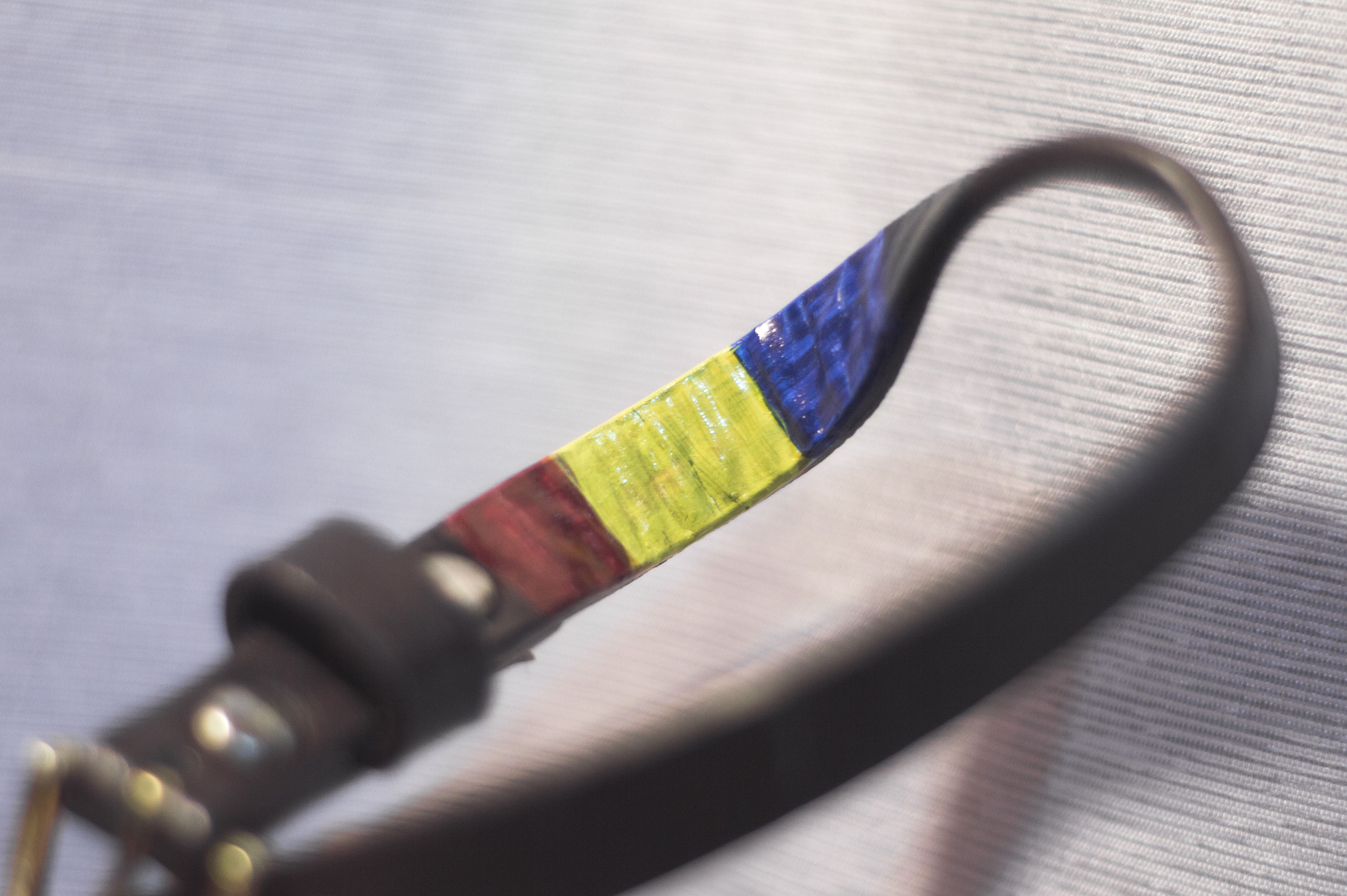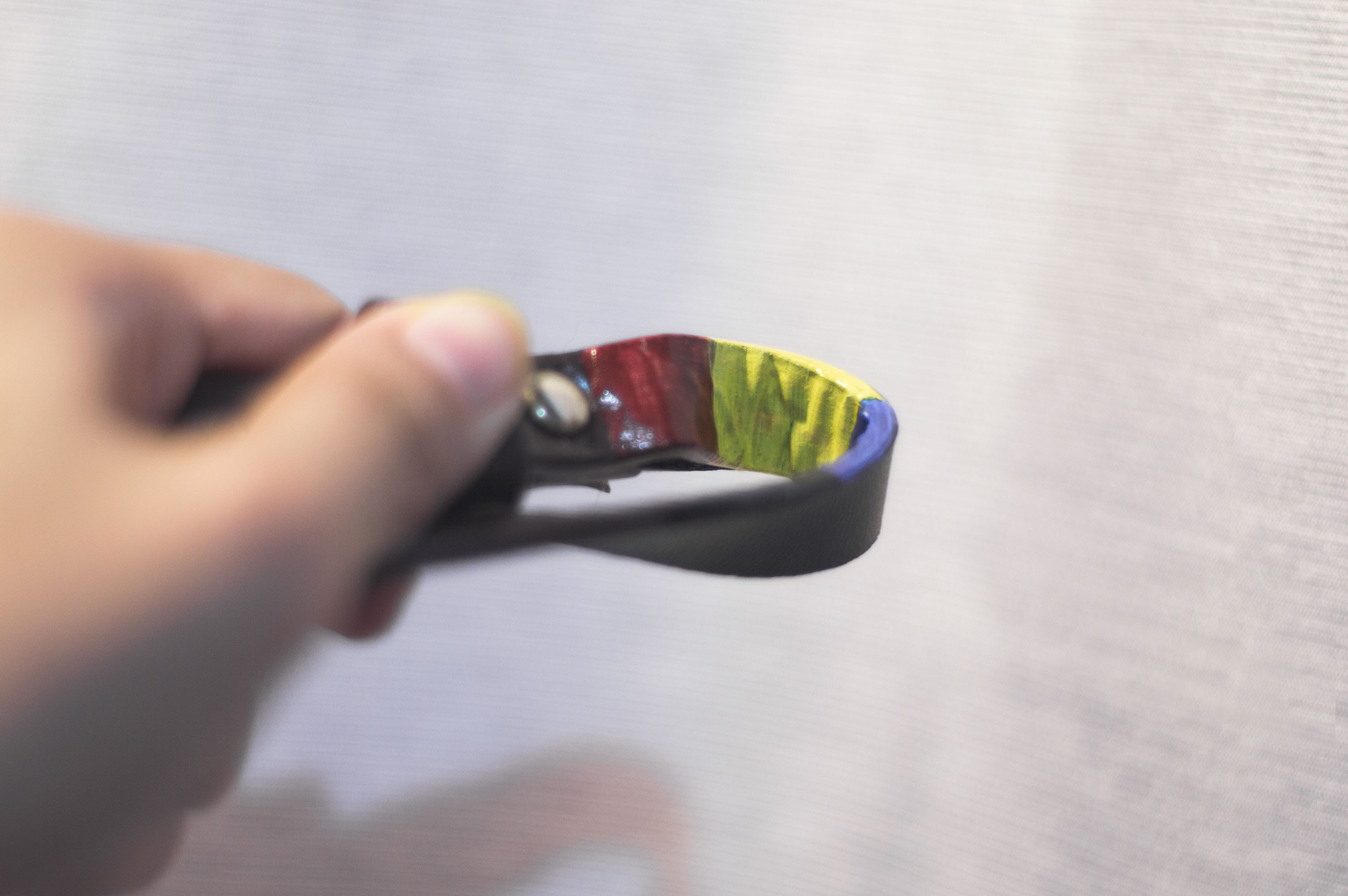 I did a lot of twisting, it didn't tear or some shit. Which was good, yay.
Pros and cons

Pros
One of the pros is definitely it being inexpensive/affordable. It wasn't really cheap because there were cheaper brands there, I guess. Best to describe it is affordable.
Another one being a local brand, which, of course, if you live in the Philippines you can just order it now and it will arrive in the next 2 days or so. I've actually never seen leather paints here in my city and the international brand that I know can only be bought online. So it's easier for you to buy this if you live here.
The paint doesn't tear or get peeled off easily. I could say the quality is good although not great.

Cons
It had too much water. Which means it would be runny and it has less opacity. It would need you to put 5 layers to be able to get a proper painting. I don't like that. I mean, for someone who's gonna paint a flat color just to cover up something it will be great for that purpose. But in my case, I will be painting with different tonal value, which will make it really hard for me to achieve that since the paint is way too transparent. I can't blend colors 5x that's just ridiculous.
Final thoughts

I could say the quality of this product is good. It will be good for someone who will paint flat colors on bags since you don't have to mix colors again and again with every layer. It is actually good for its price but it's not for me. It will be good for someone who likes a transparent effect, too. But I can't risk using this for my artworks. I can say it just depends on your goal.