Gas Mask in Mint with Time-Lapse and Sticker Demo
---
A Breath of Fresh Air...

As promised, here's my newest illustration. "New" is a bit of a misnomer, since I actually finished it about a week ago. It's only been shared via a couple of social channels, though, and I didn't get the process video together until fairly recently. I can't really say the initial inspiration for this. I just thought it might be fun to make a sticker set with hollowed out eye sockets. Gas masks crossed my mind briefly, but I wasn't really hooked on it. Then, as I was reading this Steemit post from my Steemit buddy @vincentnijman, I figured the universe was trying to tell me to draw the gas mask next.
https://youtu.be/XzdFBiTZS9M
Much like my Spa Day illustration, I wanted to create this illustration using as much digital media as possible. Unlike that illustration, however, I didn't print this sketch out and do the inking by hand, so this one was 100% digital. The line work is a little sketchier than what I do by hand, but I think with more practice, my style will begin to translate a little better. Overall, It was another great practice run at letting go of using physical pencil and paper, which are much less portable than a tablet and stylus.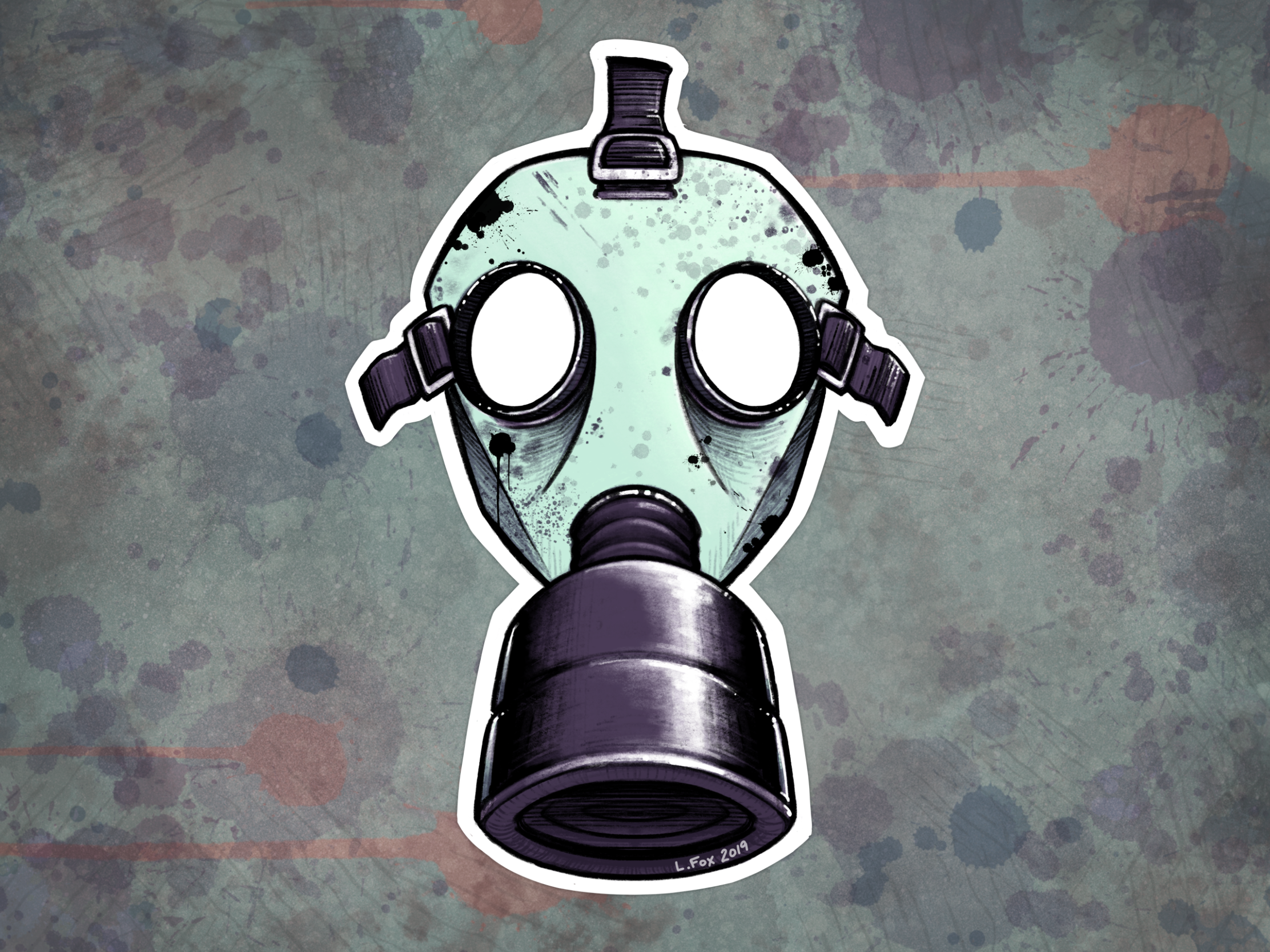 As with nearly all my illustrations, as of late, this one is available as a sticker on my Etsy shop. I've been informed that I might be undercharging a bit when comparing my work to similar products on Etsy. While that is by design to help get a few sales under my belt, I did think it might be a good idea to demo a sticker to show it's rigidity and durability (I don't want potential customers thinking my prices are lower because my product is cheap). I would like to do another video like this one to show how I make the stickers from printing to laminating to very carefully cutting.
https://youtu.be/hifZQsorXXY
I think that is it for now. I need to get started on the next illustration soon. Unfortunately, I've had my hands very full with visiting family and very sick toddler, as of late. So, if you have any recommendations on what I should draw next, please leave a comment. I'll keep you fine folks posted as soon as I have more to share. And thank you again for checking out my work.
Until next time!
#art #illustration #digitalart #digitalillustration #creativewriting #horror #blackcomedy #gasmask #warfare #chemicalwarfare #wwI #ww1 #wwII #ww2 #timelapse #process #tutorial #drawing #youtube #etsy #sticker #stickers #vinylstickers #vinyl #laptop #laptopstickers #crafts #diy #demo #demonstration
---
I welcome feedback, so don't be afraid to leave a comment. If you'd like to see more of my work, check out the links below.
Online Portfolio Patreon.
YouTube Chimp Skipper L. Fox Illustration
Merch Society6 Etsy
THANK YOU!