"Bokoblin Tea Party" - Zelda Fan Art and Digital Illustration with Time Lapse Video
---
Everyone needs time to unwind...
---
So, I've been playing a lot of Breath of the Wild the last few months. I actually started while I was still pregnant. I don't play on a regular basis, but every now and then, I like disappear into the beautiful world of Hyrule for a few hours on a weekend. I don't know what other people's opinions are, but I actually think the little Bokoblins are sort of cute. My mom used to breed Boston Terriers, though, so that might explain my affinity for big-eared, googly-eyed, mushed-faced derps like these baddies.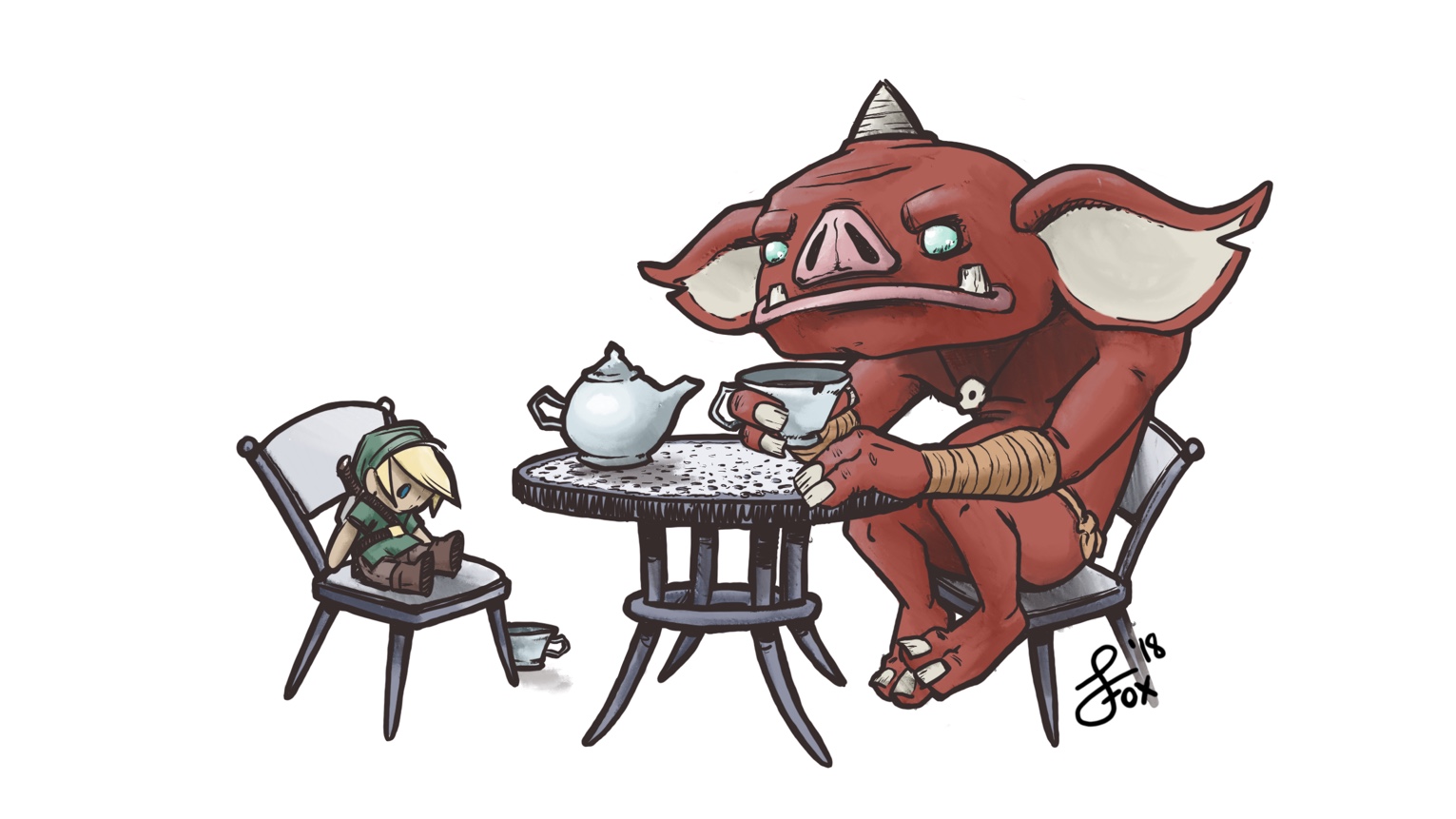 I've continued to get more practice with my new iPad. I have been really pleased with how easily my traditional media skills have translated. The biggest bonus, however, is that I can now draw in the dark. This is key because after bedtime is the biggest chunk of time Ripley gives me to do my own thing. Incidentally, after bedtime is also when I do most of my video gaming in Hyrule.
Last night I took this free time to color a drawing that I created at work. Honestly, I still have a long way to go to get back to my former digital art skill level. A lot of the decisions I made were inefficient and the piece overall took much longer than it probably should have. That being said, everyone has to start somewhere, in my case RE-start, and I I think it turned out pretty well considering that it was a random whim of an idea.
https://youtu.be/UmOvdRpc_ng
I didn't time myself (sorry), but I would estimate that it took something in the area of 4-6 hours, possibly longer. As with the last digital drawing, this was created using Procreate on the 10.5" iPad Pro with an Apple Pencil. I also made the music and time-lapse video using GarageBand and iMovies (respectively) using the same hardware.
That's it for now. I have had a couple more ideas for illustrations here and there, but nothing has really piqued my curiosity quite like this one did. So, it looks like bi-weekly posts are doable at the moment, so I will try to keep up that pace until I begin staying home with my kiddo.
Until next time!
---
I love feedback, so if you have any questions, ideas, or requests, make sure to leave a comment below. And, if you need more fun stuff to shove into your eyeballs, hop over and check out my YouTube channel, Chimp Skipper, or my online portfolio.
#art #fanart #zelda #breathofthewild #BotW #bokoblin #hyrule #parenting #digital #illustration #cartoons #silly #cute #videogames #nintendo #switch #ipad #apple #procreate #link