The first music purchase in my life (I'd like to know yours as well)
---
I had a job for as long as i have memories of being alive, really. I know that we all can recollect pieces of being really young but I don't really remember all of my life from day-to-day until i was a bit beyond 1st or 2nd grade.
When i was doing paper routes or mowing lawns as a young kid I think that mostly my primary objective was to make money in order to always have money for candy (times were pretty innocent in the early 80's and Minecraft didn't exist.)
But there was another love that would come along that I think infected all of us during our lives and for me and many other people it was music.
I don't know if you can say the same and if you were always alive in the digital age I don't know if this will apply to you but I remember the very first album that i selected and purchased with my own money that I earned from waking up at bullshit o'clock and delivering newspapers to houses.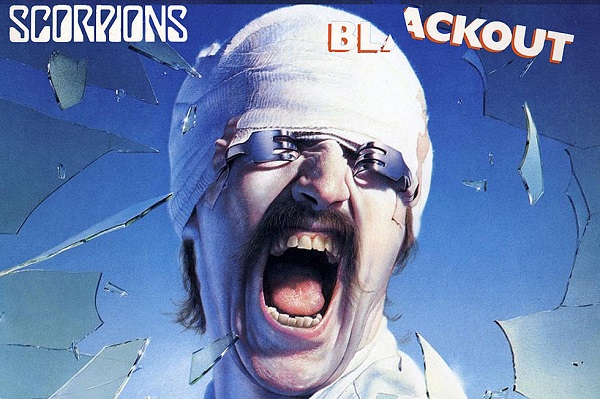 source
My motivation to buy this album was driven by the fact that the record store named "Pickles" was right next door to what I believe was the S&P stamp shop that was in the same mini mall and while I am sure the presence of me and my brother and sisters (all were very young) probably simply annoyed the store clerk at the time, I ended up buying this cassette by the time I left (with permission from my mother of course.)
I'm not sure what motivated my decision but this would end up kind of defining my life musically from that point forward.. It might have been the cover art with the in-turned forks into the eyes but mostly I think it was the fact that we listened to the radio a lot in my house and there was a song on this album that really appealed to me (and I presume a lot of other people) at the time.
https://www.youtube.com/watch?v=6VwbyBGbqPY From the official Scorpions channel
There is a lot more to this story than just digging the Scorpions song because they went on to become (and already were) one of the most famous acts out of Germany of all time. My little 8/9-year old mind likely only had a very small idea of where Germany actually was at the time when the other side of Nebraska seemed so incredibly distant.
However, the driving metal riffs in this appealed to me to such a dramatic degree that this is a notion that stuck with me until today where I listen to stuff much much harder than Scorpions and I presume it will remain that way for the remainder of my time on this planet.
https://rockmusicstarcom.files.wordpress.com/2016/08/scorpions-band-2015-rms-2.jpg?w=550 source
The music i prefer now makes Scorpions look like NSYNC in comparison but in my mind, there is no denying that the connection that was made on that day in Pickles Record Store has stuck with me 30 some-odd years later.
The cassette likely cost me $3 or $4 but honestly i don't remember (it was a really long time ago.) There were no fold outs of any sort and it is the ONLY cassette from my youth that I still have. I am not even sure if it works because I don't even know anyone that has a cassette player (I don't even own a CD player anymore.) However, it was a momentous day and we all have a day similar to my own
I am a metal fan forevermore.... of this much i am sure.... and while Scorpions are extremely tame compared to what I listen to now, this first purchase was instrumental in defining the type of music that I would end up enjoying to this very day.
What was the first music you ever purchased? It doesn't have to be a cassette because we are all different ages. I am just curious to know if the first songs that you ever purchased (with your own money that you earned) ended up influencing what you listened to throughout the rest of your life.
Like most people I ended up spending thousands of dollars on albums: at one point i had a 200 CD flip book that contained an absolutely massive collection of mostly metal. We all had a starting point though and I am curious if any of you can remember the very first album that you ever purchased and even moreso.... if it ended up influencing your musical preference into the future in a similar fashion to my own.
Before anyone decides to bag on Scorpions know that Guns N Roses, Metallica, Megadeth, and even Spinal Tap feel as though the German band were major influences on their careers