Thailand doesn't participate in mass consumerism and I'm grateful for that
---
I spent most of my adult life not living in the Western world. I'm not suggesting that I am more enlightened than your average North American because of this but there are a few aspects of Western society that seem extremely ridiculous once you are are on the outside looking in. The pandemonium that happens from "Black Friday" onward is one of the main ones.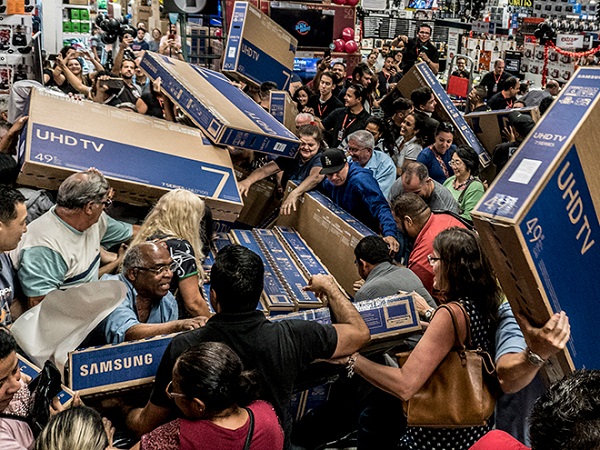 source
There are a lot of factors that lead to the people in South East Asia not beating strangers to death over a sale on a television. One of them is certainly the very real lack of affluence in this country. It could be Buddhism, or maybe people are just generally too polite over here to ever do soemthing like that. One thing is for certain though: I have never, in my 15 years of living here, seen a group of people go absolutely mental and turn into tribal warriors at 5am over a sale at Tesco.
https://i2.wp.com/sbpress.com/wp-content/uploads/2014/11/blackfriday.jpg?resize=600%2C385 source
I never participated in this madness, even when i lived in the States. I'm not going to suggest that I am above that sort of thing, I just don't like waking up early... never have... I was the one kid in my family that didn't even want to wake up early on Christmas day and had to be roused by my sisters to get the party started.
I think that everyone, even those who are directly responsible for the psychotic atmosphere that inevitably arises on "Black Friday" can say that it is absurd. But lets move on to another point that I believe is more prevalent: The massive amount of money spent on gifts.
Studies suggest that the average American will spend $650 on Christmas gifts.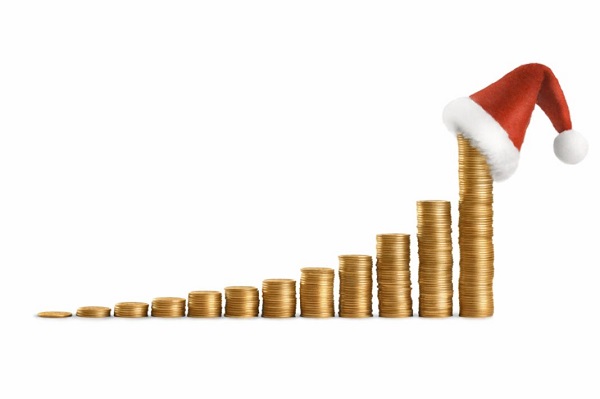 source
This amount has seen an upward trajectory over time and while some of it can be attributed to inflation, mostly people are simply buying more stuff. We are being duped into spending an absolute fortune and for some people, it is money the don't even have and credit card debt rises immensely during the holiday period.
https://cdn.someecards.com/someecards/usercards/MjAxMi0xNGNhMDVmZTE1Nzc0YmVk.png source
When I was in college, I, like most college students, didn't have much in the way of money. Most of the money I did have went into spending on booze and if there was anything left, a bit of food.
However, every year during Christmas I would load up the car with dozens of gifts for people that I only see once a year and therefore know very little about. Basically, this was all going to end up being crap that they wont even use.
Despite the fact that I routinely had difficulty in paying my rent at the time, this tradition could not be done away with. There was a lot of pressure to make certain that you had as many gifts for your family members as they had for you. We all look back on it now and just think of how wasteful that all was.
It was a wonderful year when after yet another spending of thousands of dollars and a living room filled with wrapping-paper detritus that my mother had a breakfast announcement: This was to be the final year that any of us were going to purchase gifts for one another. Instead, we would take a family vacation to a ski resort for a few days and each of us would chip in, the lion's share being on my mom and dad's shoulders.
https://images.vailresorts.com/image/upload/ar_4:3,c_fill,dpr_3.0,f_auto,g_auto,q_auto/v1/Breckenridge/Heros/Brochure/Explore%20the%20resort/The%20Mountain/About%20the%20Mountain/Trail%20Map/Breckenridge-Trail-Map-Heros-2.jpg source The first year we went to Brekenridge, Colorado... and it was just glorious
Christmas from that point forward was looked forward to just as much but now none of us had to be stressed out, wandering around Bath and Body works on the 22nd because pretty much everyone everyone loves soap and candles.
---
In Thailand as well as all the surrounding countries, they recognize the importance of Christmas, but with the exception of expat families who still have one foot in their home country, there is very little in the way of gift-giving excess. Schools are open on the 25th and maybe their will be a special meal. For most people it is just another day though.
This could have a lot to do with the fact that your average Thai family doesn't even make $650 a month but I also think that the corporate sponsors haven't managed to sink their claws into the populace just yet. They certainly do try but for the most part these "holiday sales" are not going to have much impact on your average shopping mall in Chiang Mai.
What about you? Does your family go cuckoo for Christmas? My life for the past decade has never involved a single gift purchase for anyone and honestly, while i don't want to poo poo on anyone's parade, i think overall things are better because of it.