Lum Lum Korean Restaurant - Chiang Mai: Great kimchi - the rest was pretty average
---

Located just north of the city center in the wildly-popular Mechoke Plaza / outdoor shopping mall. Lum Lum might not be so easy to spot because they have zero signage in English. However, it is just opposite the only McDonalds and they have vacuum tubes hanging from the ceiling.... that might help you figure out which place it is.
The restaurant isn't very big but honestly, considering the niche market for Korean food I would say it is just the right size. There are two major options available here at Lum Lum: You can order slices of pork or beef by the plate, or you can go for the pork buffet. The buffet was 329 Baht a person (around $10) so we went for that.
As you would expect from a Korean restaurant, an entire ensemble of free "extras" come with the meal (with buffet or individual plates) but for the most part, i wouldn't really consider these to be a factor since most of them were either tasteless or gross- the one exception would be a the Kimchi, which was absolutely fantastic.
Taste in Kimchi is very subjective but as far as Thailand is concerned - this was likely the best Kimchi that I have ever had here that wasn't made at home.
Booze is relatively inexpensive and the service, although slow at first, gradually gravitated to them doing everything for us including cutting and cooking the pork for us on our personal grill. This is where the major problem sets in: The pork was advertised as being "very high quality" and I'm afraid that myself and my 2 companions did not agree.
I have eaten at these sorts of establishments in Korea and while i realize it isn't fair to compare cuisine outside of a country to what it is like in said country - this pork was pretty average at best.
The establishment itself is friendly, it is wonderfully located for visitor and people who happen to live in the North part of town and the prices are very reasonable. However, the absolute main reason why people visit a Korean BBQ is for higher quality cuts of meat than they would get at your run-of-the-mill barbecue buffet. In that regard, i really feel as though this place is quite lacking.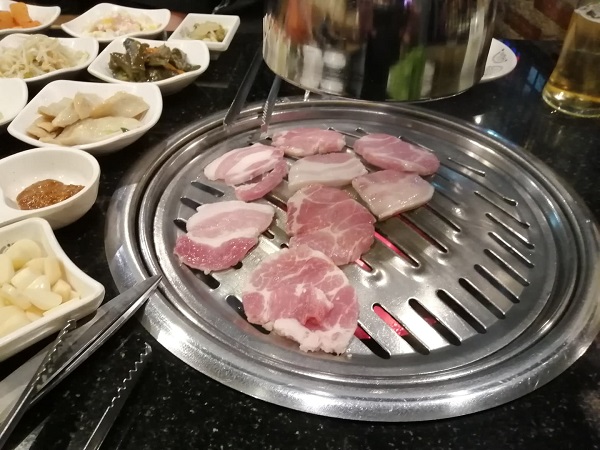 While we were all able to eat here and have a great "Korean" experience, I honestly feel as though the meats just aren't of a very high caliber.
Myself and every member of my party left full (as you tend to from a buffet) but also agreed that while it was "ok," we really don't see ourselves returning anytime in the near future - if ever.
top image credit all other images are my own
---
Restaurant Information

Lum Lum Korean Restaurant
206 หมู่ 6, โครงการมีโชคพลาซ่า, ถนนเชียงใหม่ - พร้าว, ตำบลฟ้าฮ่าม อำเภอเมือง จังหวัดเชียงใหม่, 50000 Tambon Fa Ham, Amphoe Mueang Chiang Mai, Chang Wat Chiang Mai 50300, Thailand
---
Lum Lum Korean Restaurant - Chiang Mai: Great kimchi - the rest was pretty average This post participated in the Tasteem contest Your weekly choice