Good Place to Start Winter Hiking, Tatra Mountains
---
Read "Good Place to Start Winter Hiking, Tatra Mountains" on TravelFeed.io for the best experience
---
Winter hike to Nosal Mountain
Nosal, (eng. nose) is a 1,206m height mountain near the Winter Capital of Poland, Zakopane. Its main attraction is skiing, but hikers can also test themselves by following a green track from Kuznice to the peak of Nosal. The hike starts at 935m elevation and takes approximately an hour to climb the mountain, which is 1.6km away from the beginning of the route. As in my Zakopane winter hiking guide, I recommend doing this walk before challenging yourself on a more difficult route. Climbing Nosal Mountain is a good place to test your gear and take a sneak peek of the beautiful winter wonderland National Tatra Park is.
Risk of avalanche
First and foremost, just as before starting any hike in Tatra National Park, be sure to check the avalanche bulletin at the entrance to the route. The danger level will range from 1 to 5, with 1 meaning that you are good to go, and 5 – entering is forbidden. Everything else is somewhere in between. Nobody can say, when it is safe to enter the route, and when it is not.
Personal judgement
If you know what you are doing, I'm sure you would be even safe on some hikes during the highest danger level. Personally, I never risk, if avalanche bulletin shows danger levels of 4 or 5, and, based on how difficult the track is, I would only enter a hiking route if I feel safe with my companions. In this case, when I climbed Nosal Mountain, I was with 4 inexperienced people (as winter hikers) on avalanche danger level 3.
You can find more information about the avalanche danger level in Tatra National Park here.
Perks of winter hiking
Now that you are aware of general avalanche dangers and the hike itself, I will have to ask for your attention. I know I told you that this hike is an easy one, but there is no such thing during winter in mountains. Climbing Nosal Mountain might be short, nevertheless, steep and dangerous. As the day goes, the snowy steps get worn by the people to form ice. Climbing that might be really difficult thus slow you down, which in turn would transform the whole hike into a serious unexpected enterprise. To avoid this, I would highly suggest you either getting to Nosal early, before the crowds or simply using crampons, to make the climb on ice – tolerable.
Use of trekking poles
Despite the size of the snowpack, or even the season, you might find trekking poles to be exceptionally handy while climbing any mountain. This will not only make climbing less stressful on your lower body but will help you to maintain your balance. Another useful feature of trekking poles is the ability to arrest yourself if you happen to slip and fall. This is something I highly encourage training by yourself on a safe steep slope, it might save you a lot of trouble one day.
One way or another, if you happen to climb out of woods, reaching the back of Nosal Mountain, now, the only thing you should think of is safety. Making a wrong step might get you hurt and this is where trekking poles come to help again. If the path is still unbeaten, I recommend checking it with a trekking pole before taking any step. It is like walking blind, except the cause of the problem is not your illness, but the snow on the ground.
Panorama from Nosal Mountain
If you'll be luckier than I was, you should be able to see way more than just pine trees. Thousands of them, covered by snow, disappearing into thick clouds, before you are able to see anything else.
Climbing down Nosal Mountain
If the road gets covered by ice, descending by foot will be way harder than it was climbing up. The good news is that if you have balls, there is a trick to get yourself down fast, and even have some fun while you do it. You could either squat and slide down while holding your balance with your hands, or sit on your butt and do the same. The second option is safer, but there is always a possibility to bump into a rock and get yourself hurt. Due to steepness of the route, I do not recommend doing this, but you can bring sleds to the top of the mountain and descend in no time.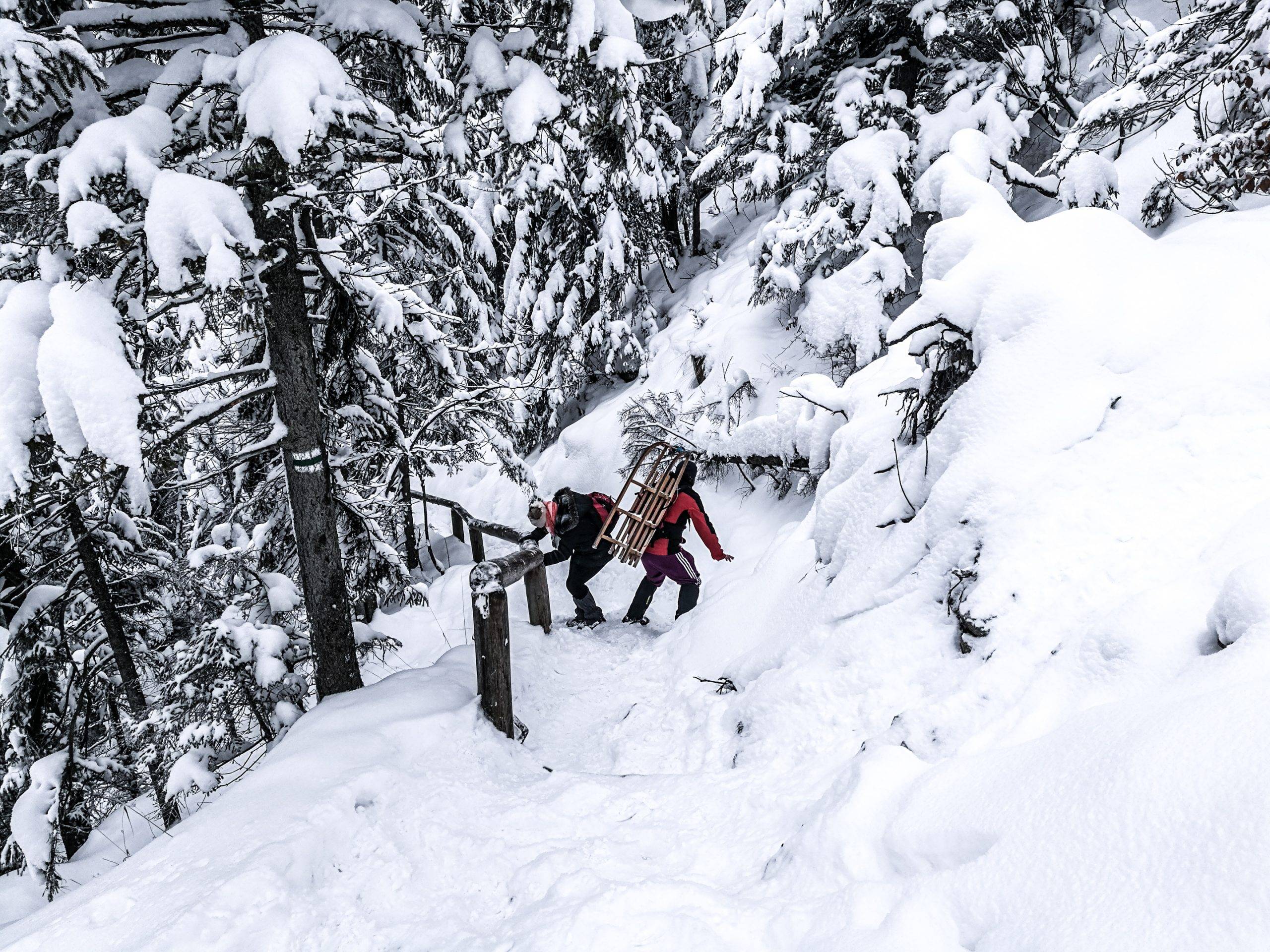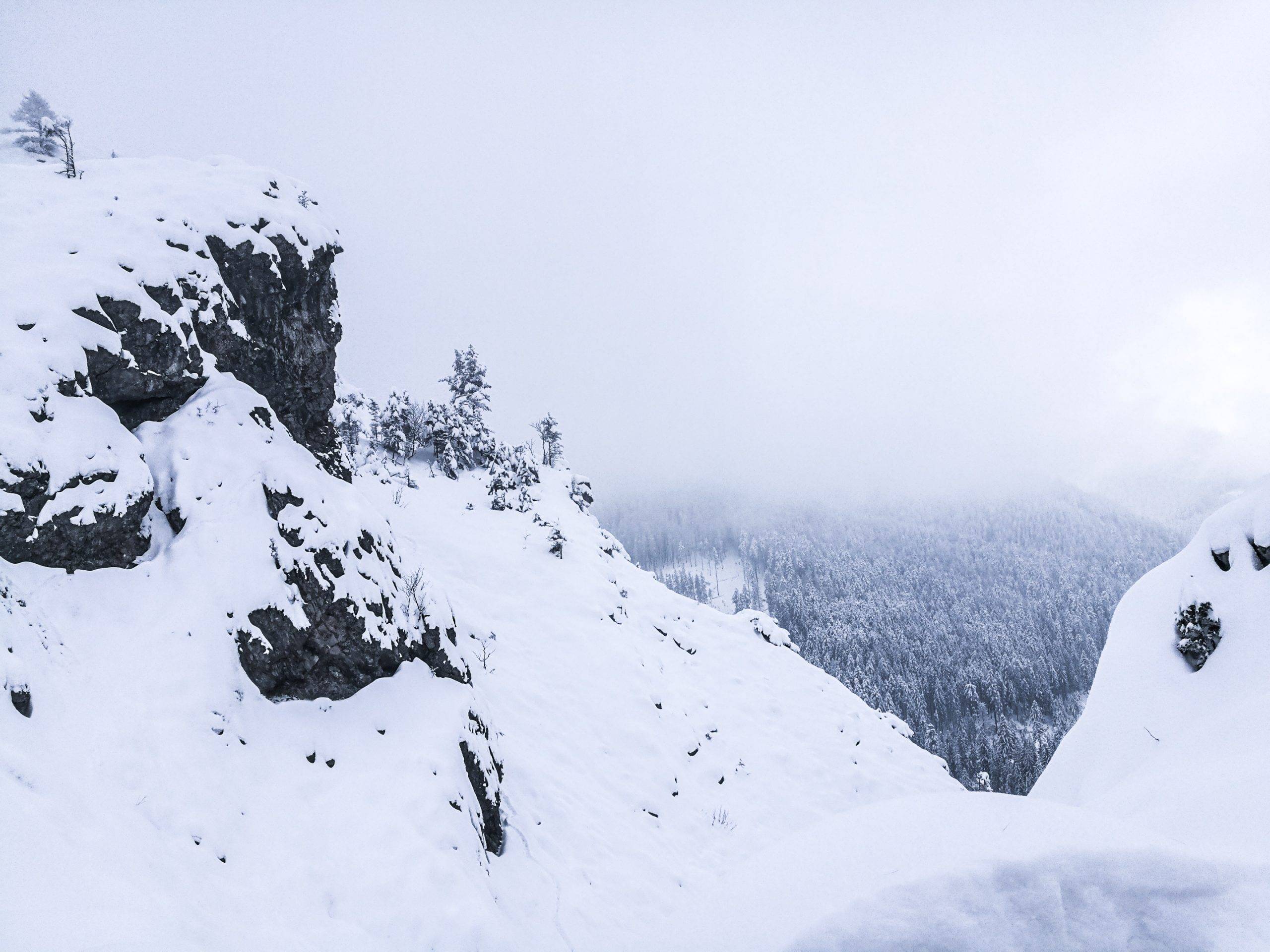 My impressions of Nosal Mountain in winter
Completing this hike will give a useful experience and possibility to test your gear before more difficult winter hikes, like Morskie Oko or Kasprowy Wierch. Even though I label Nosal Mountain as a route, there are plenty of other reasons to climb this humble peak. Not to mention that during winter, everything looks majestic in Tatra National Park, but Nosal is so close to Zakopane that it doesn't really make much sense not to climb it.
The view from Nosal mountain is exceptionally intriguing, after all, it stands right in the face of High Tatras. These mountains have been sought by mountain lovers ever since the enlightenment and the golden age of alpinism in early 19th century. Nosal Mountain was the peak, where High Tatra Mountains alpinism has started. So it wouldn't surprise me if this route would be the place, where you'd fall in love with winter hiking.

Originally published at https://ctdots.eu on December 12, 2019.
Newsletter Subscription
As some of you might have noticed, I don't post very often and my blog might be a bit hard to follow. Fort this reason, I created a subscription lst for anyone who is willing to get a notice once I publish a new blog post. You can subscribe to it by clicking here
Want more of this?
Any given post entry of any given place takes me around 20h to complete. This includes writing, researching, photo editing, creation of graphics and actual post. Nobody pays me to do it, therefore I must do it on my free time. I have many interesting ideas of how to put an interesting information into an easy way to digest it, like maps, infographics and other cool stuff, but what I lack is time. If you appreciate my work and happened to be in a position where it wouldn't hurt you, it would mean a world to me if you could gift me an extra hour on Patreon.
---
View this post on TravelFeed for the best experience.