Updates for 10PM Wednesday 20-05-2020
---
Latest from https://twitter.com/ausbitbank
20/05/20 09:16 18 PM Retweet: BREAKING NEWS: Actual footage of @justinsuntron finding out that his stolen funds were stolen back. Watch NOW!
https://www.captiongenerator.com/1848032/Justin-Sun-finds-out-what-happened-to-HF23 … #steem #steemhostiletakeover #hive #tron
---
20/05/20 03:33 52 AM
Retweet: RIP a legend @ActualAdviceBTC pic.twitter.com/34uXCyxZTl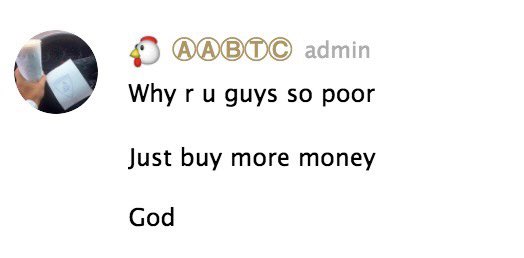 ---
20/05/20 04:25 56 PM
Retweet: We will pass the portal? pic.twitter.com/4tGTOWb0ak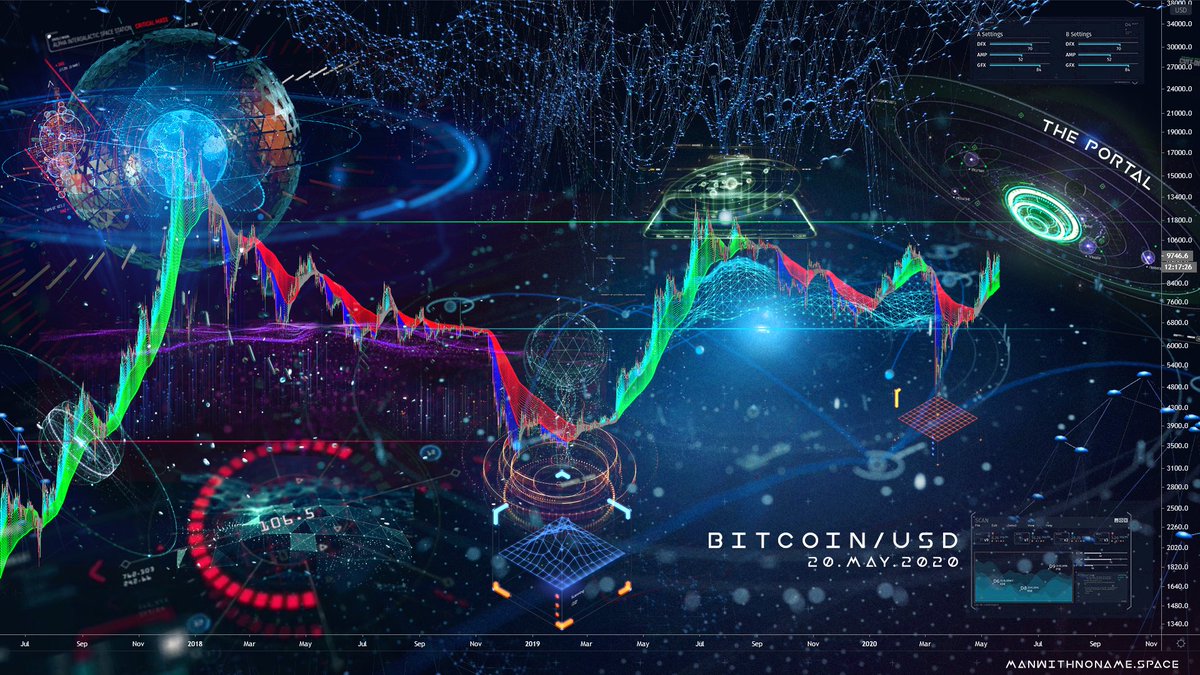 ---
20/05/20 08:45 00 PM
Retweet: (@justinsuntron) pic.twitter.com/epxalNngtB
---
20/05/20 04:36 14 PM
Retweet: The account sent @justinsuntron a message "stealing is bad" #steemheist pic.twitter.com/9XjmJuPVdh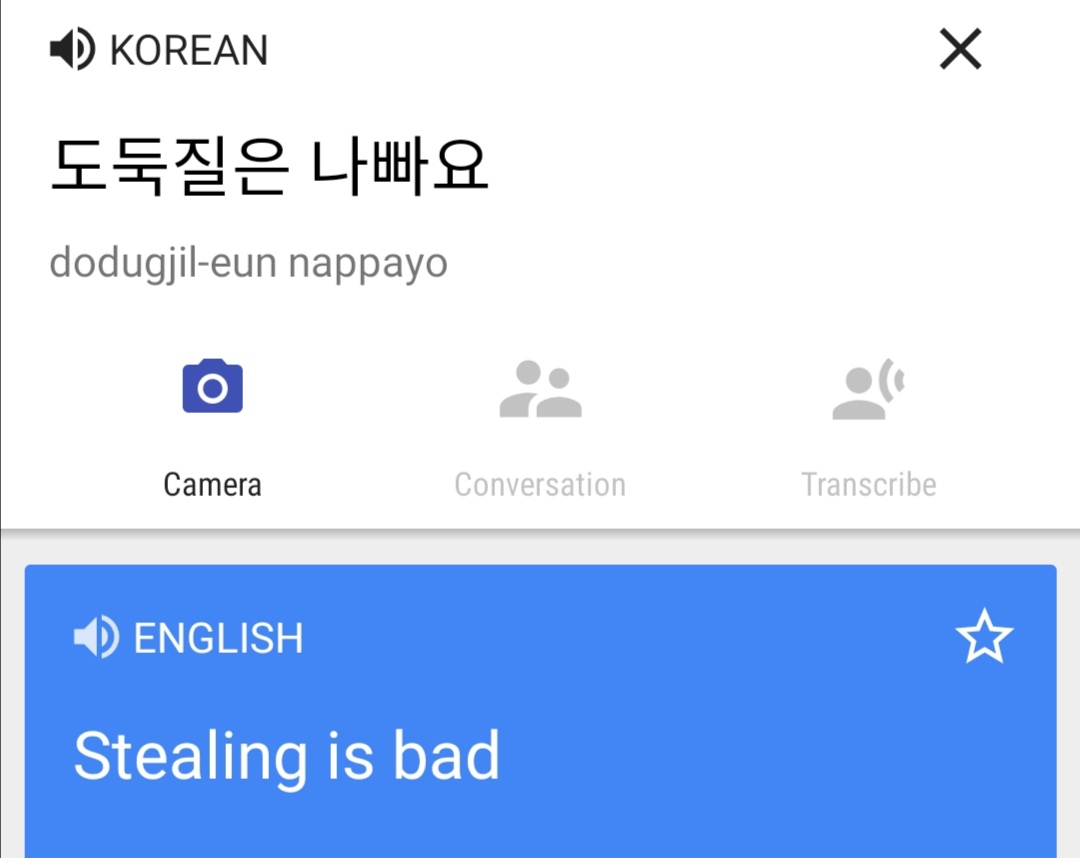 ---
20/05/20 04:59 33 PM
Retweet: Here's what just happened in one of the most amazing shows I've ever watched on a computer screen. #steem #SteemHostileTakeOvere #HF23 #SteemHeist x2 https://peakd.com/steem/@apshamilton/justin-sun-thwarted-a-white-knight-saves-the-steem-stolen-by-hf0-23-by-sending-to-bittrex …
---
20/05/20 04:54 43 PM
Retweet: 40 #BTC (391,055 USD) transferred from possible #Satoshi owned wallet (dormant since 2009) to unknown wallet
The coins in this transaction were mined in the first month of Bitcoin's existence.
Tx: https://whale-alert.io/transaction/bitcoin/cb1440c787d8a46977886405a34da89939e1b04907f567bf182ef27ce53a8d71 …
---
20/05/20 05:03 11 PM
Retweet: #steem & #hive community, # of Items @justinsuntron has broken in anger in the last hour:
---
20/05/20 05:04 57 PM
Retweet: This is priceless #hive #steem pic.twitter.com/3DHZoZngMx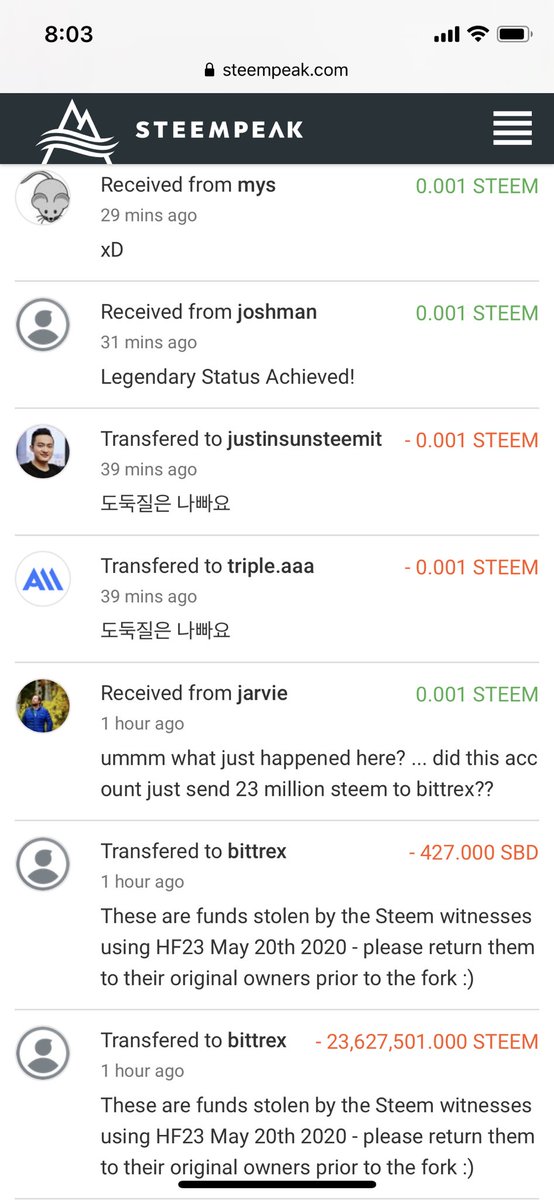 ---
20/05/20 04:27 14 PM
https://steemd.com/@community321 Too funny
---
20/05/20 04:11 47 PM
https://steemd.com/@community321 My heart can't take this rollercoaster. The #steem hardfork happened, and the 23M+ stolen steem got instamoved to @BittrexExchange ! pic.twitter.com/kFoNMnSBx7

---
20/05/20 04:02 42 PM
Aaand its gone. @justinsuntron just stole 28k #steem from me. #steemheist #steemhostiletakeoverseason2 pic.twitter.com/eCIGWJ7Xdn

---
20/05/20 02:44 48 PM
Retweet: As a person who knows what the hell they are talking about: the following statement is an intentional and blatant lie.
This statement below is 100% incorrect. It is for that reason that I will no longer participate on @OfficialDLive pic.twitter.com/VPZnVzz11g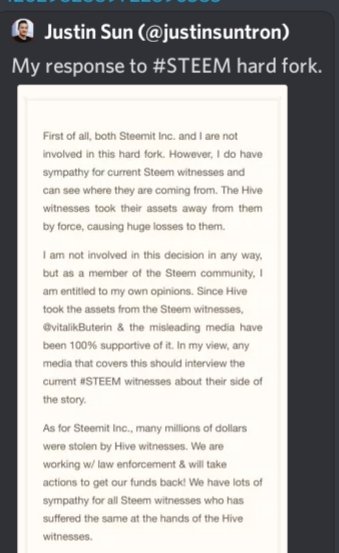 ---
20/05/20 12:02 03 AM
Retweet: Funny how with the way Justin treats Steem, that he expects Ethereum users to jump into a lurking Tron fire #gold @VitalikButerin
---
20/05/20 09:06 57 AM
Retweet: One of the accounts on @justinsuntron's purge list is https://steemd.com/@mottler . He hasn't done any transactions on #Steem since 2016. But he is a threat to the security of the blockchain?! Check your narrative JS!
---
20/05/20 10:10 09 AM
Retweet: what a joke. I hope crypto-news reports this accurately, and calls him out for these blatant lies. not receiving an airdrop isn't theft. his funds haven't been frozen for weeks either, so wtf is he talking about? lies on lies on lies. pic.twitter.com/LgkoXLELQI
---
20/05/20 05:50 50 AM
Retweet: Steem Hardfork 0.23 is very concerning for not just @SteemNetwork but also for anything that @justinsuntron touches. He's about to steal a lot of money from people, about $600K from @TheycallmeDan_ This is the exact reason I left @OfficialDLive because it's now owned by a thief. pic.twitter.com/XmtWQ69EGO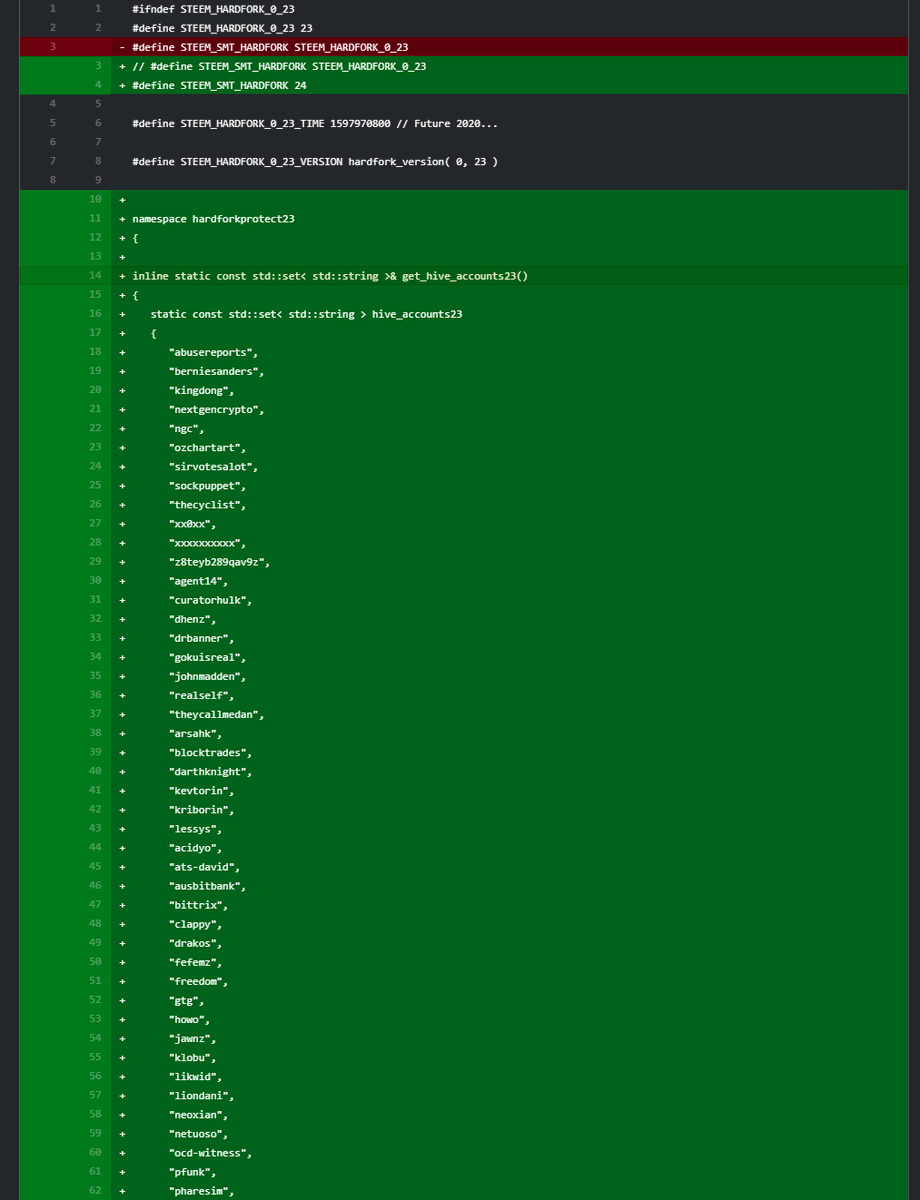 ---
20/05/20 12:42 37 PM
Retweet: When some of us called @justinsuntron a lying, degenerate scumbag knowing who he was when he arrived to @steemit, and that we didnt want him anywhere near #STEEM, many called us toxic and him a "businessman".
The Mafia bosses also call themselves businessmen.
#hiveisalive pic.twitter.com/mzOL8N3cYH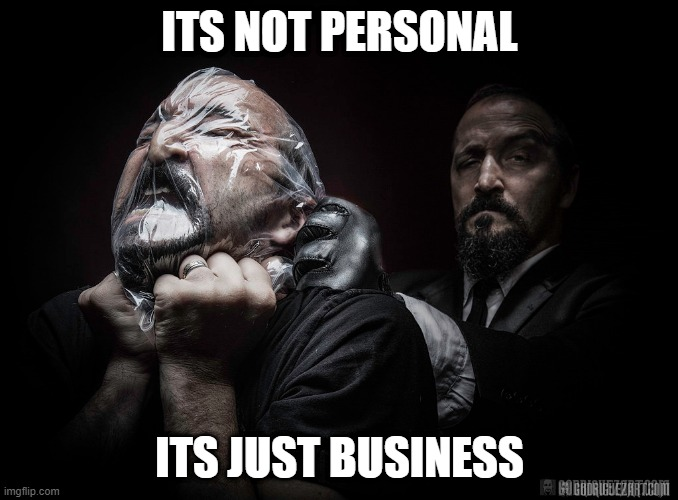 ---
20/05/20 12:25 24 PM
Retweet: I doubt they are stepping down, they are just trying to shield themselves legally by replacing their witnesses with anon accounts.
New accounts created right after they step down and are approved instantly into the top 20. pic.twitter.com/c6wUINhUaZ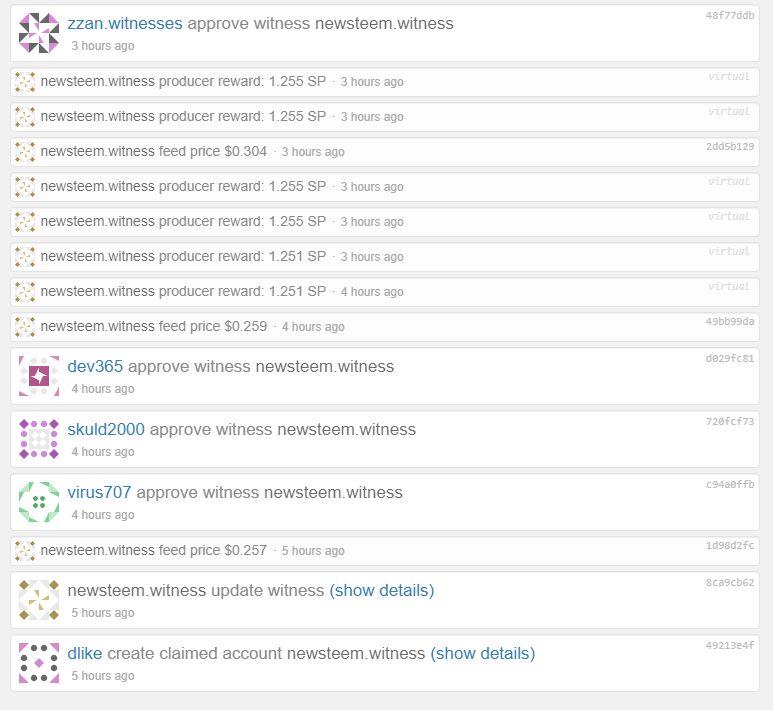 ---
20/05/20 09:26 11 AM
Retweet: If steemit is not involved, then how come it is voting newly created witnesses running hf23 into consensus positions? None of them would be there without the steemit vote, so you are not only involved, but in full control. pic.twitter.com/VMiZ1WKhOm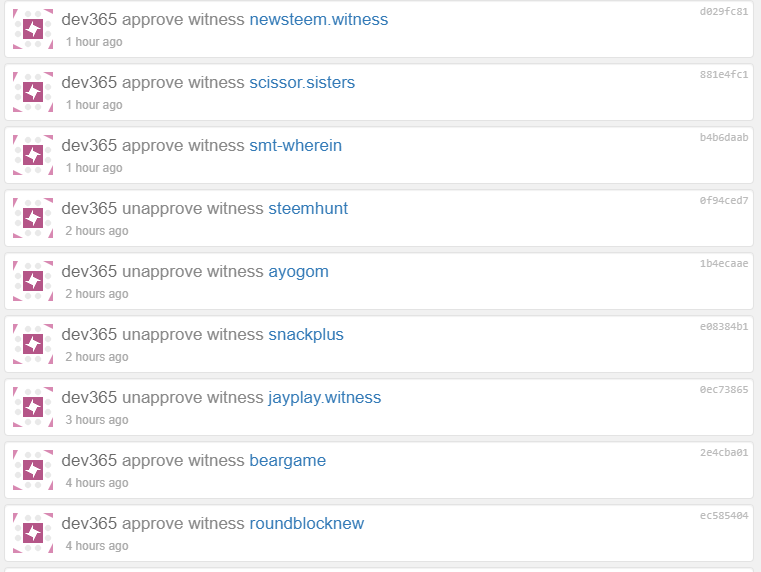 ---
Shared on Hive by ausbitbank:
Hive Trending:
Hive Hot:
---
Find my real posts on
hive
and
twitter