Hi Bittrex!
---
28,487.591 of my Steem were stolen when the recent Hardfork 23 activated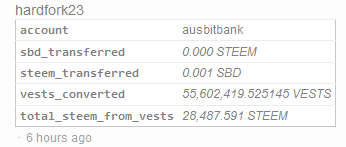 Moments later, all of the stolen funds were transferred to your exchange :

There is pretty clear accounting on the blockchain that these are my funds, both purchased and earned over the last 3 years.
The theft happened in block 43536278 https://steemd.com/b/43536278
https://steemd.com/@ausbitbank https://steemd.com/@community321
I'm already a client of yours - my usual Steem deposit memo is e85e482324a44f21b36.
Please do the right thing