Actifit Weekly Updates: Password & Key Management. Hive Delegators Display & Payouts. Editing Post Fixes Actifit.io. Market Consumption Fixed.
---
Hey hey actifitters! We are excited to bring you another weekly update. We've been quite busy working on improving your experience on actifit, and making it as robust and feature rich as possible. Below you will find some updates for this week.
Password & Key Management
We have integrated into your actifit.io experience, following a lot of request the capability to manage your password & keys, on both your hive and steem experience. Recently many users had changed their password/keys, and were facing difficulty posting to both chains using actifit app, as the app currently only supports one posting key, which needs to be common. Other interfaces and front ends allow you to only edit the password/keys for one chain, and as they auto-generate your password (and keys), you won't be able to have common keys and hence post actifit reports to both chains.
Hence came our new password and keys management interface. Now you can find, under your right hand side menu, a new menu item called "My Password".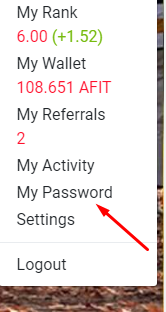 Clicking this option will lead you to your password and key management interface. (also directly accessible via password access link, of course you need to be logged in to access it)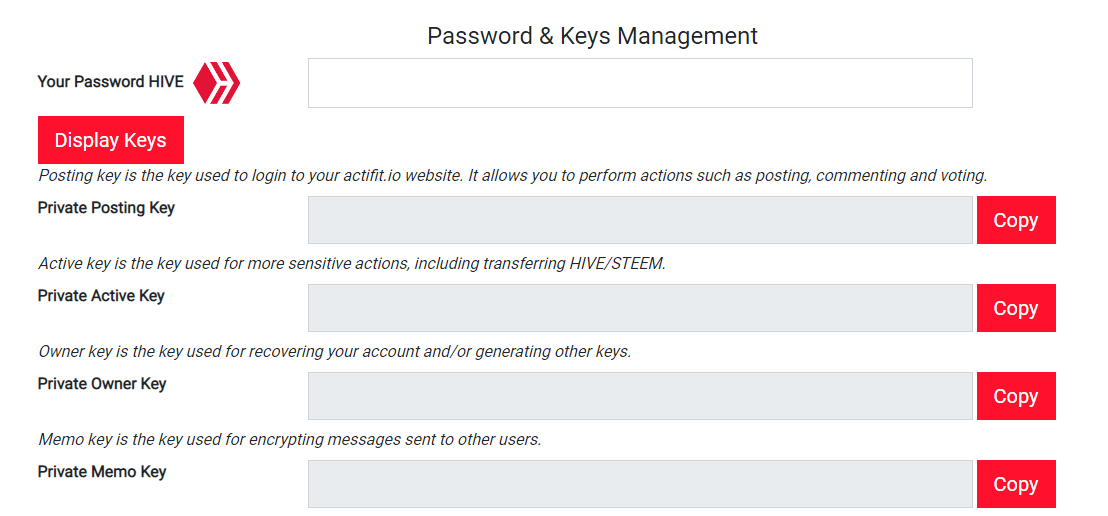 To find out what your private keys are, you can simply type in your password in the top box, and click display keys. This will fetch your keys and display them in plain mode so as you can copy those and store them safely.
Underneath this, you will find another section that allows you to adjust your password (& keys). You can choose between updating your key on a single chain (the one you logged into now), or both chains.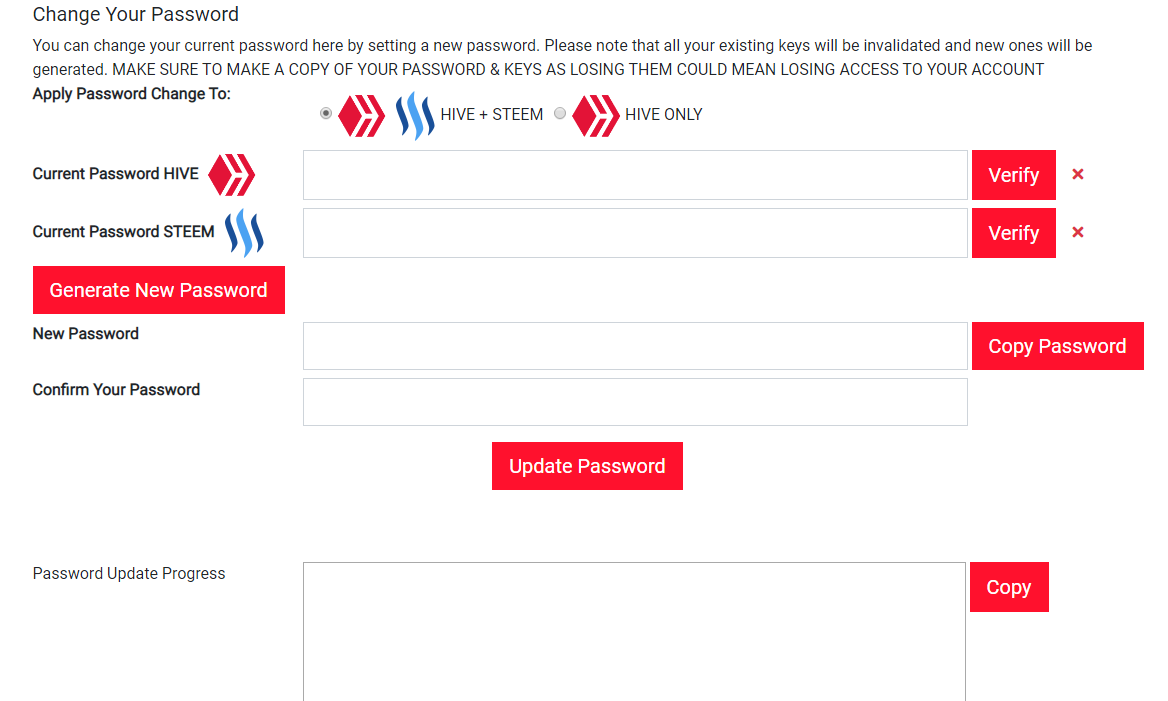 After choosing which chain(s) to update, you would need to provide your current password(s) & verify it. Following, you can generate a new one, copy it, confirm, and click update password. The updates will show just below in the password update progress.
If you had selected both chains, the password and keys for both chains will be displayed in that box. If there are any errors, they will also be displayed in that box.
Hive Delegators Display
As part of further integration of hive experience onto actifit, and in further recognition for our hive delegators, we have made adjustments to the actifit.io experience, so as now hive delegators show on both the main actifit.io landing page, as well as the delegators display page
You can see below a partial display of hive and steem delegators on main screen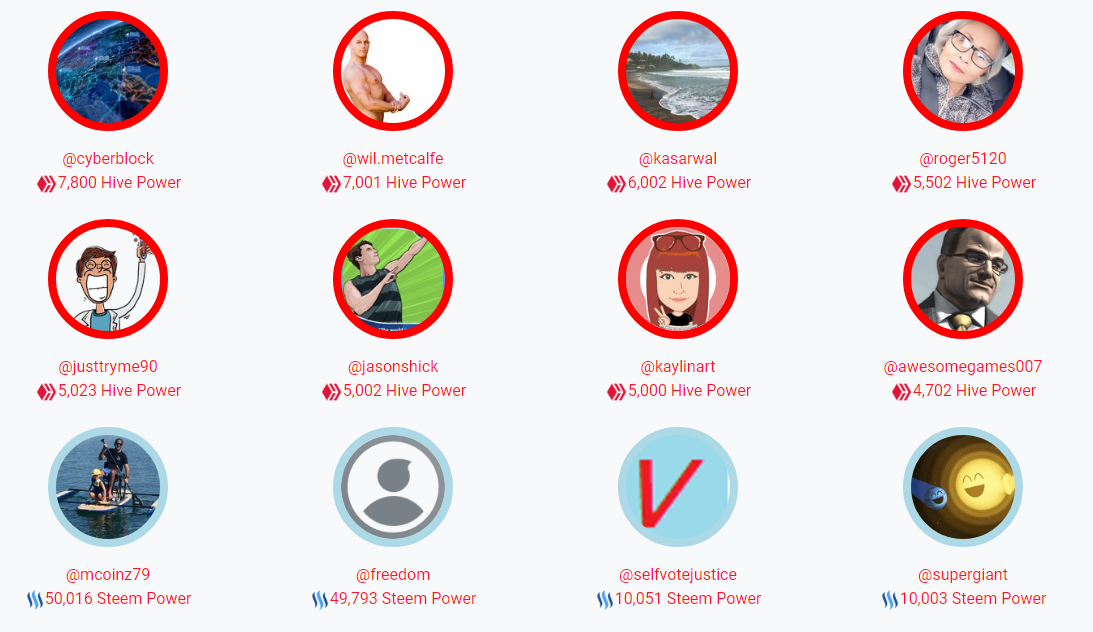 We have also sent out payouts for both our hive and steem delegators. Thank you all for supporting actifit! In total:
166.804 HIVE & 1.744 HBD were sent out to 480 HP delegators
94.168 STEEM & 9.892 SBD were sent out to 410 SP delegators.
Thank you for the continuous support!
Editing Post Fixes Actifit.io
We have implemented several rounds of fixes to the edit post functionality on actifit.io. Thank you for everyone who reported issues about this, and for assisting us better troubleshoot the problems. We have made a final fix in the last hour or so which should have fixed the issue for all of our users. If you still face issues, please bring them to our attention on discord
Market Consumption Fixed
Last but not least among our updates, is an issue that prevented our users who had activated products from using them across actifit reports to get extra rewards.
Our last voting cycle went smoothly, and all users who had active products were properly consumed via the cycle, and got their extra rewards. As an additional side note, some users reported getting "truncated comment" note on one of their actifit report card's comments. This was also due to a relevant bug by the market functionality, and was also fixed in the last update.
This was mostly a technical update, but we wanted to make sure you are well aware of the hard work we are making in coding our way to your fit & healthy lifestyle :)
---
If you would like to support our witness on Hive, vote for us via peakd or hive blog wallet or set us as proxy via peakd
If you would like to support our witness on Hive, you can vote for us via steempeak or set us as proxy via steempeak
Our amazing team
@alfamano | @alokkumar121 | @ashikstd | @ciuoto | @ckole | @katerinaramm | @priyanarc | @rabihfarhat | @pjansen | @thereikiforest | @sumit71428 | @silvertop | @elizabethbit
Haven't downloaded Actifit yet? download it from the playstore or from the app store and start your journey to fitness and rewards!
@actifit team